A Handle on Propane Transportation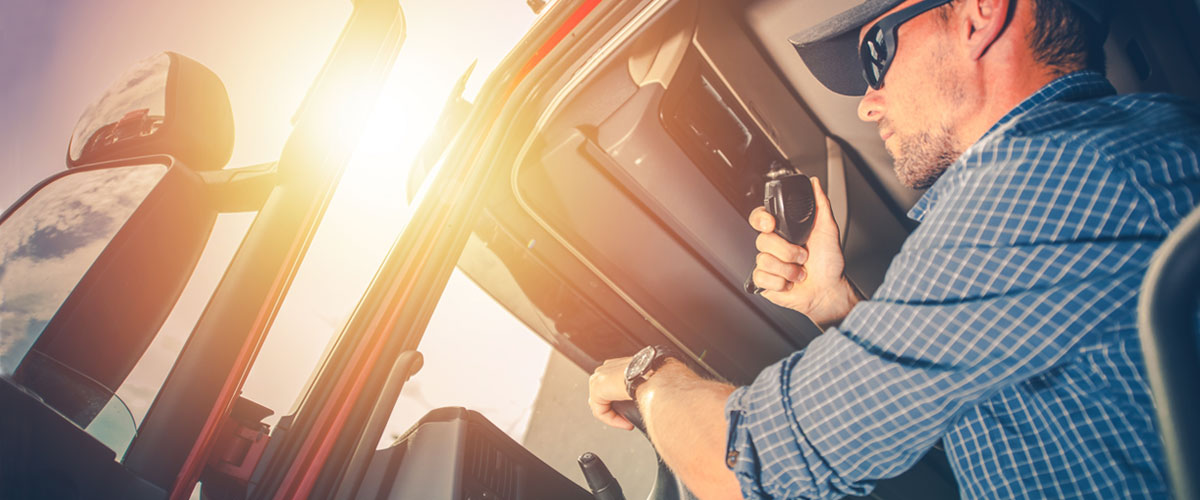 For as long as I can remember, the propane industry has had transportation challenges. In the early 1990s, some of my biggest challenges involved scheduling dozens of transports, around the clock, to deliver to natural gas utilities and their large commercial customers (like Ford Motors) that were on interruptible service. The utilities offered a price discount if they could flip customers over to propane during periods of strong demand. While they were curtailed, the commercial accounts had equipment that would blend propane and air to match the characteristics of natural gas.
Times have changed, but there are new challenges, so I asked Glenn Myers and Ken Ray to share their thoughts on the current state of propane transportation.
HEFFRON: Ray Energy is one of the few midstream propane companies that has a transportation division to supplement the great work that common carriers perform for us on a year-round basis. What are some of the advantages to our customers?
RAY: We have aligned ourselves with the most reliable common carriers in the industry. Over the summer, based on our customers' contracts, we allocate the transportation volumes by month that each hauler will be expected to deliver. By carefully forecasting, we allow the carriers ample time to allocate equipment and drivers. This is another reason why we encourage our customers to contract with us early and accurately in the spring.
Our company has grown at a rapid pace. As new customers come to us over the winter or existing customers request more volume, having our own transport fleet has allowed us the flexibility to meet that demand.
HEFFRON: What's been the impact of electronic logs?
MYERS: The Electronic Logging Device (ELD) Rule was mandated to be in use by December, 2017. Electronic logs (ELOG) help keep our drivers within the established Federal Motor Carriers Safety Administration (FMCSA) and Department of Transportation (DOT) regulations while keeping a primary focus on safety and compliance. Ray Energy drivers work within the guidelines and set hours of service. Having the ELOG keep track of those hours helps both the drivers and the dispatch/office staff to view the driver's remaining time for the work period and then schedule accordingly. The elimination of paper logs enables our drivers to spend more of their time servicing customers.
Being able to use multiple supply points has also helped in route planning and driver efficiency. The addition of the Hampton, NY, terminal has allowed us to plan loads around multiple supply points to reduce wasted hours/unloaded miles and spend more time delivering product to our customers.
HEFFRON: What are your thoughts on the current challenges to the transportation industry?
MYERS: Our Ray Energy drivers, as well as many other drivers in the hazardous materials transportation industry, are held to a much higher expectation than other truck drivers. Having to maintain special endorsements and qualifications requires committed professionals who take extreme pride in what they do with a higher focus on safety to make sure the products they are hauling are loaded, transported, and unloaded properly and without incident.
Driving has not gotten any easier with many distracted drivers on the road. Add in the ever-changing weather conditions of the Northeast, as well as some challenging terrain, and companies need to have the best drivers hauling these types of loads. Physicals, credentials, finger prints, background checks, continual safety training, etc. are all required of the HazMat driver, which is why the industry is not for everyone. The people who dedicate themselves to this type of trucking demand a top wage and top notch equipment. Safe drivers are becoming harder to find, so it's imperative to keep the ones we have.
HEFFRON: What are a few things that the retail/commercial customer can do to help all transport companies perform at their highest level of efficiency?
MYERS: If any customer has the ability to forecast and schedule deliveries in advance, it benefits everyone involved. Planning ahead helps with supply, logistics, and can reduce deep spikes that occur when demand gets heavy. Some customers predict how much product they will use or deliver every day and then schedule transport loads based on these predictions. This provides their supplier a delivery "schedule" for the week or month or even farther out. Customers who have pre-planned loads out as far as March, 2019, help relieve the stress of needing "emergency" loads.
Recently, we installed remote tank monitors on some of our customers bulk fuel tanks. This has been a tremendous help for us as well as our customers with inventory management.
HEFFRON: Last question, and thank you both for your time: Peterbilt, Kenworth or Mack?
MYERS: We operate Mack, Peterbilt, Western Star, and International trucks with various engine/transmission set ups. You can't beat the toughness and durability of the iconic Mack Bulldog or the comfort of the "Cadillac of Trucks" – the Peterbilt. Our International units have also proven their worth and have accumulated over a half a million miles each. With all the recent changes in design efficiency, engine, and pollution efficiency, we have to be looking at other manufacturers as well, including the Kenworth brand which has been making a strong footprint in the trucking industry recently.
At the end of the day, I prefer any truck that has the distinctive red and yellow colors of Ray Energy!
What's Happening with Propane Prices?
A month ago, the price of Belvieu propane was $.7038 per gallon. On Monday, it was $.7163 per gallon. So, not much has changed in 30 days.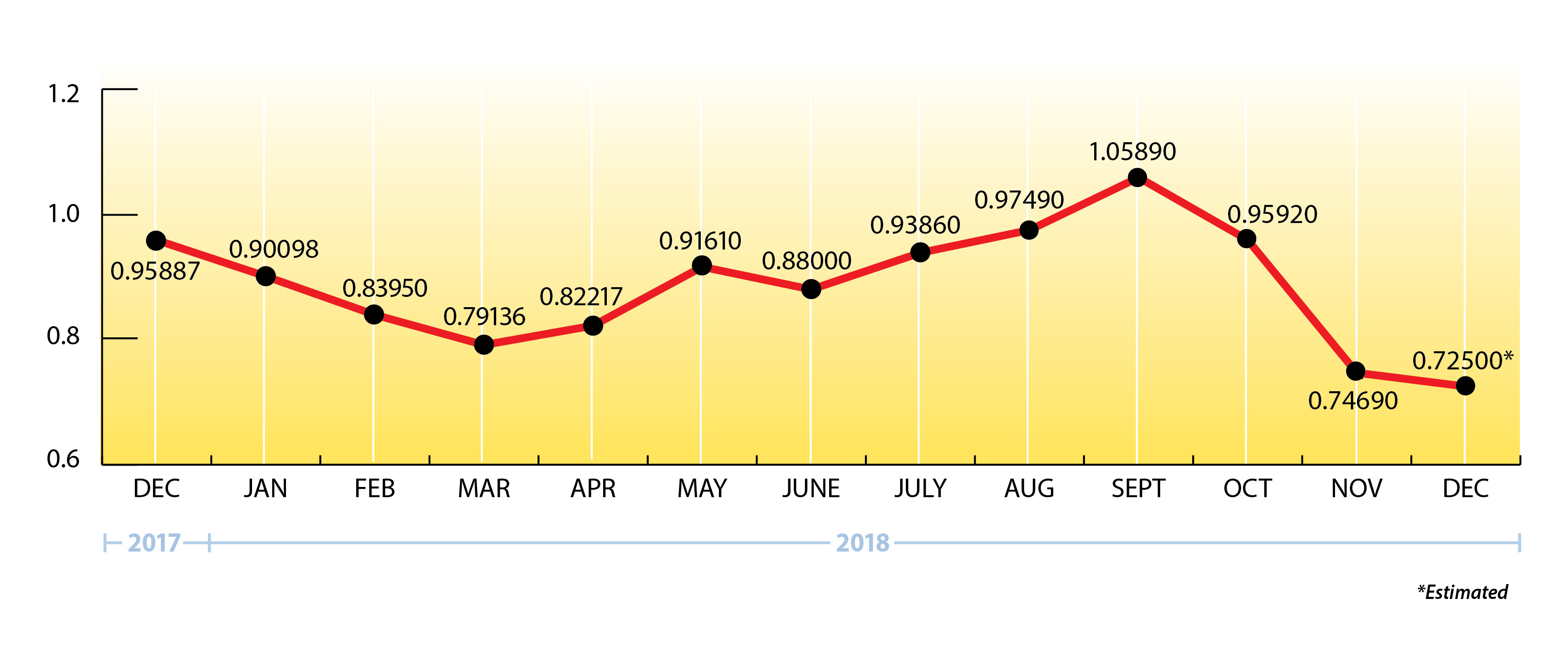 EIA Weekly Numbers
US propane inventories (excluding propylene) for the week ending 12/7/18 showed a draw of 3.247 mmbbls., greater than industry expectations. They currently stand at 72.123 mmbbls., about 6% below the five-year average.
PADD 2 (Midwest/Conway) inventories drew down by .833 mmbbls. They currently stand at 24.339 mmbbls., about even with the five-year average.
PADD 3 (Gulf Coast/Belvieu) inventories (excluding propylene) drew down by 1.617 mmbbls. They currently stand at 37.80 mmbbls., about 10 percent behind the five-year average.
The Skinny:
All of the propane supply in the world: by pipeline, railcar, or ship, means nothing without the transport delivery trucks that roll into your yard. They are the lifeblood of our propane industry and we thank every safety-conscious, dedicated driver in the transport business that helps us keep families warm in the winter and businesses running.
Season's Greetings & Happy Holidays from all of us at Ray Energy!
---
Get Stephen's insights on propane delivered to your inbox every month.
Sign up for our email newsletter here.
NOTE: The views and opinions expressed herein are solely those of the author, unless attributed to a third-party source, and do not necessarily reflect the views of Ray Energy Corp, its affiliates, or its employees. The information set forth herein has been obtained or derived from sources believed by the author to be reliable. However, the author does not make any representation or warranty, express or implied, as to the information's accuracy or completeness, nor does the author recommend that the attached information serve as the basis of any buying decision and it has been provided to you solely for informational purposes.

© 2011-2018 Ray Energy Corp. All rights reserved. Any reproduction, representation, adaptation, translation, and/or transformation, in whole or in part by whatsoever process, of this site or of one or several of its components, is forbidden without the express written authorization from Ray Energy Corp.