Fireworks in August?

What happened?
The Mt. Belvieu, TX, monthly average …for the past five months… was .6318 and every month since February has settled out within a few cents of that average. But then the fireworks started. From mid-July to early-August, propane prices rose from about 60 cents per gallon to about 77 cents per gallon.
So, what happened? Well, crude prices moved up 9% in July, the largest monthly gain in about a year. But propane prices jumped about 18%. We can understand one reason why crude prices moved. For although the Baker Hughes oil rig count is nearly double where it was a year ago, once crude prices approached $43/bbl. (late June), it was as though someone slammed on the breaks. Since then, we've seen either weekly declines, neutral reports, or very modest builds in active rig count.
We've talked before about propane as a percentage of crude. Propane prices moved from 56% up to 64% of the value of crude throughout July, which is a level we've rarely seen during the past four or five years.
Think of it like a distress signal.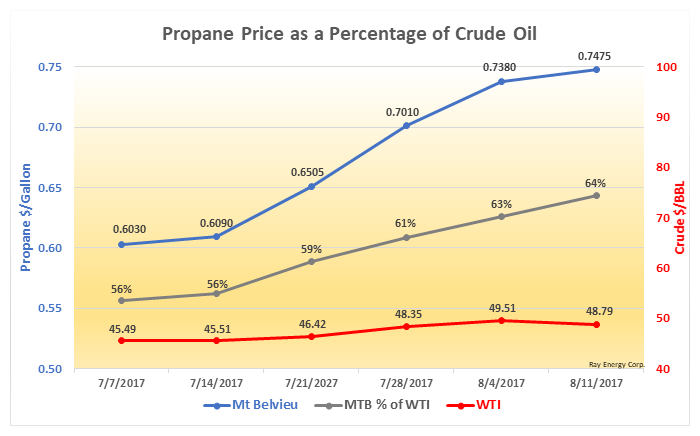 And, the price of propane relative to the price of crude oil will probably stay high for a while until we see several significant weekly inventory builds in a row (over 2.5 mmbbls.) which would indicate falling export levels and declining propane demand as a petrochemical feedstock.
What about inventory builds?
We also had a dismal propane inventory build in the third week of July, which didn't help matters. While we normally average a weekly build of about 1.85 million barrels per week during the build season, the EIA reported a paltry build of only 200K on July 19! Never mind that the prior week the EIA reported a build of 3.5 million barrels. The late July focus clearly shifted to the small build, not the two-week average, and the growing perception that we won't have enough propane inventory on hand to meet both contractual export commitments and domestic heating requirements this winter.
So here we are. Propane prices are about .30 cpg higher than last year at this time, and propane inventory levels are about 24.5 million barrels (26%) lower than last year at this time.
And market volatility is back.
EIA numbers for the week:
Propane inventories built 1.6 mmbbls. to 69.2 mmbbls. for the week ending 8/11/17.
Should we be nervous?
On August 8, the EIA reported an "unchanged" propane inventory build of zero barrels.
That's not good, but it's not necessarily indicative of future results. In our new global propane market, export levels can wobble dramatically. We have seen, and will continue to see, draws in the summer and builds in the winter.
Atypical is the new typical.
For what it's worth, the propane inventory build season historically peaks around mid- to late-October, which is still about 10 weekly reported periods away.
87.20 millions barrels of propane inventory on hand is my best guess as we head into winter.
Seems low, but look at the previous high inventory levels for propane (excluding the last two record-setting years):
81 million barrels (2014)
77 million barrels (1998)
75 million barrels (2012)
What's most important?
What's most important, and maybe even critical, is the answer to this question: "Are we capable of producing more propane than we consume?"
I believe the answer is "Yes".
Here's how I see the current math:
Supply:
1.815 propane production + .097 imports = 1.912 million barrels per day of propane supply
Demand:
.764 US propane demand + .910 exports (largest figure in many weeks) = 1.674 million barrels per day of propane demand
The difference is about 7.14 million barrels per month excess supply.
What's happening with propane prices?
Here are the Mt. Belvieu monthly averages with a projection for August.

The Skinny:
It's true we're inextricably part of a global energy community now. But it's equally true that we make more propane in this country than we consume.
If the retail propane industry wants to keep domestic propane here …commit to it by contracting with Ray Energy… and it will stay here.
---
Get Stephen's insights on propane delivered to your inbox every month.
Sign up for our email newsletter here.
NOTE: The views and opinions expressed herein are solely those of the author, unless attributed to a third-party source, and do not necessarily reflect the views of Ray Energy Corp, its affiliates, or its employees. The information set forth herein has been obtained or derived from sources believed by the author to be reliable. However, the author does not make any representation or warranty, express or implied, as to the information's accuracy or completeness, nor does the author recommend that the attached information serve as the basis of any buying decision and it has been provided to you solely for informational purposes.
© 2011-2017 Ray Energy Corp. All rights reserved. Any reproduction, representation, adaptation, translation, and/or transformation, in whole or in part by whatsoever process, of this site or of one or several of its components, is forbidden without the express written authorization from Ray Energy Corp.
---