O Canada!

Understanding Canadian Propane Supply and Infrastructure
How is western Canadian crude production interconnected with Gulf Coast refineries and rail shipments of propane into the eastern United States?
My first trip to Calgary in search of Canadian propane rail supply was in July of 1992 during the Calgary Stampede Rodeo. I'm not sure that it was called a bootleggin' breakfast back then, but I remember hotel ballrooms getting cranked up just past the crack of dawn with country & western bands, and carafes of vodka and orange juice on every table!
Canadian Propane Supply
Canadian propane supply typically equals about 10% of total US propane supply. Most of it is exported to the US by pipeline, truck, or railcar. Just as the Energy Information Agency (EIA) reports US stocks of propane, the National Energy Board (NEB) in Canada issues a monthly report.

As you can see, propane inventory in eastern Canada (96.1 metric cubic meters = about 0.6 mmbbls.) trails last year by 50%, while propane inventory in western Canada (380.70 metric cubic meters = about 2.4 mmbbls.) is nearly 100% ahead of last year.
Eastern and Western Canadian Infrastructure
The largest fractionation, storage, shipping areas, and pricing hubs in Canada are found in the Edmonton, AB, area (west) and the Sarnia, ON, area (east).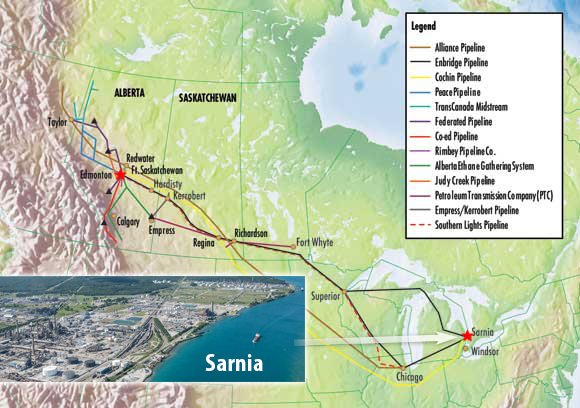 What Does Above-Average Western Canadian Propane Supply Mean for Us?
The best current net-back markets for western Canadian propane are in the eastern US and the Gulf Coast, not the Midwest. Most western Canadian propane supply will likely ship south to the Gulf Coast via rail to Kansas and then pipe to Texas. Or it will ship East (including underground storage in Marysville, MI) via rail in, store, truck or rail out to supply the Upper Midwest and East Coast markets.
This should help build propane inventory levels in every region priced off Mt. Belvieu, TX.
How Is the United States Withdrawal From the Iran Deal Interconnected with Western Canadian Crude Production, Gulf Coast Refineries, and Canadian Rail Shipments of Propane into the US?
Here's my logic:
US Gulf Coast refineries were originally designed to refine heavier grades of crude oil, such as what's found in Venezuela, Western Canada, and Kazakhstan.
Western Canada has large quantities of tar sand or "heavy" crude.
Thanks in part to the US withdrawal from the Iran Nuclear Deal, WTI crude prices are now at their highest level in four years ($71.00 bbl.).
Given this renaissance in crude prices, there will likely be pipeline capacity constraints shipping crude from north to south, so we will once again start seeing unit trains (100 plus railcars) of Canadian crude oil heading to the Gulf Coast for refining. The Canadian National railroad (CN) and the Canadian Pacific railroad (CP) are hiring new conductors and adding over a hundred new locomotives over the next three years in anticipation and response to multi-year commitments from Canadian crude shippers and terminal operators.
Here's the Rub.
My concern is for potential rail transportation issues from western Canada as strong new demand for southbound crude unit trains competes with other industries, including our own.
The potential increase in overall rail demand from western Canada could translate to a shortage of locomotives and conductors, along with congestion and bottlenecks at distribution points due to increased traffic, which could create unforeseen delays with propane rail supply shipping east.
The Solution?
More than ever, diversification of railroads is as important as diversification of supply source.
We saw the need for railroad diversification in January with the Brompton, QC, bridge wash-out which affected service to the Auburn, ME, rail terminals.
Ray Energy's propane rail supply to the Hampton, NY, Albany, NY, Grafton, MA, and Hermon, ME, rail terminals comes from a combination of northern, western, and southern supply points on multiple North American Class 1 railroads that service the Northeast.
What About Help for Central and Western New York?
It's no secret that central and western NY propane marketers were hit hard in January with supply shortages from Sarnia and other Canadian supply points. Fortunately, we were able to help everyone that needed our help. To avoid a similar situation in the future, we've added lots of new propane storage along the Teppco pipeline. This added storage will allow us to serve new and existing customers at the following pipeline terminals even better:
DuBois, PA
Watkins, Glenn NY
Oneonta, NY
Selkirk, NY
What's Happening with Propane Prices?

Goldman Sachs crude forecast for this summer was $82.50 Brent before the Iran announcement. That price forecast is "skewed to the upside" now.
Let's make a reasonable assumption that the WTI/Brent spread widens to $8.00 bbl. That would put WTI at $74.50 bbl. x 55% (propane percentage of crude) = $40.97 bbl. propane. Divide by 42 to convert from barrels to gallons and you get .9755 cent per gallon Mt. Belvieu, TX, propane forecast for this summer.
Looking back, propane prices moved lower from November (.98 cpg) to March (.79 cpg). Now we're at .93 cpg and wondering "Where do we go from here?"
Propane as a percentage of crude is already low (about 55%), so it's hard to imagine a scenario where propane prices could move substantially lower until crude prices drop. Unfortunately, with the WTI/Brent crude spread recently widening by $3.00 bbl., we're likely to see greater international petrochemical demand for US propane as a preferred feedstock versus Brent crude derived feedstocks such as naphtha or gasoil.

EIA weekly numbers:
US propane inventories for the week ending 5/11/18 largely met expectatioans with a 1.68 mmbbls. build (40.35 mmbbls. total) and currently stand 5% behind last year.
Midwest (Conway) inventories built .76 mmbbls. (10.9 mmbbls. total) and still trail last year by 18%.
Gulf Coast (Belvieu) inventories built by a disappointing .368 mmbbls. (24.19 mmbbls. total), but are only about 2% behind last year.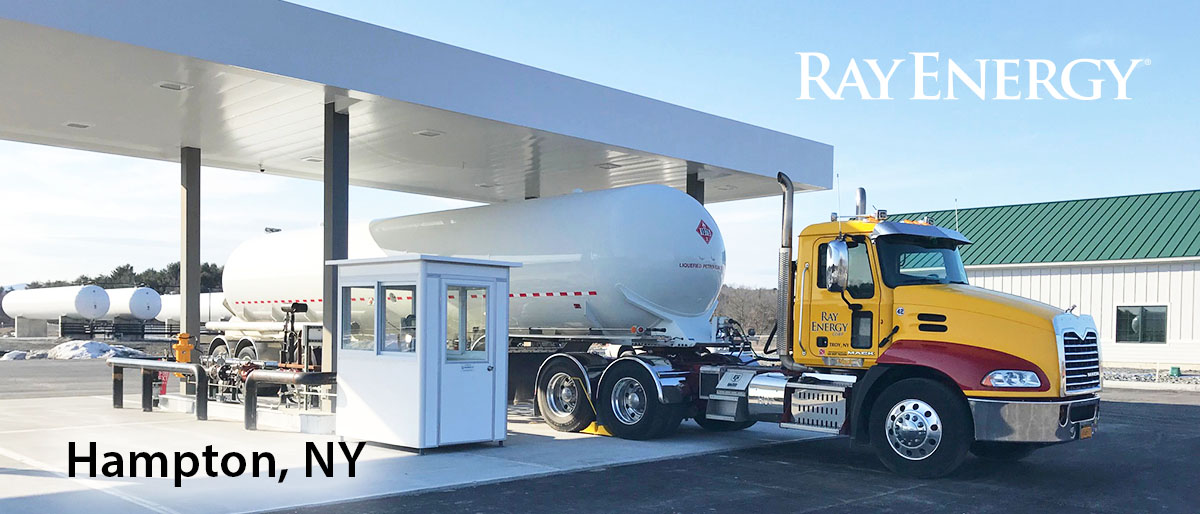 The Skinny:
Diversification of railroads that serve propane rail terminals is as important as diversification of supply sources.
Our new propane rail terminal in Hampton, NY, was designed to work with four Class 1 railroads before interchanging with the Vermont Rail (VTR). This example of railroad diversification allows us the unique ability to source our propane supply from multiple distribution points throughout the eastern US and Canada.
It's just another example of how Ray Energy thoroughly prepares to meet your upcoming propane requirements.
---
Get Stephen's insights on propane delivered to your inbox every month.
Sign up for our email newsletter here.
NOTE: The views and opinions expressed herein are solely those of the author, unless attributed to a third-party source, and do not necessarily reflect the views of Ray Energy Corp, its affiliates, or its employees. The information set forth herein has been obtained or derived from sources believed by the author to be reliable. However, the author does not make any representation or warranty, express or implied, as to the information's accuracy or completeness, nor does the author recommend that the attached information serve as the basis of any buying decision and it has been provided to you solely for informational purposes.

© 2011-2017 Ray Energy Corp. All rights reserved. Any reproduction, representation, adaptation, translation, and/or transformation, in whole or in part by whatsoever process, of this site or of one or several of its components, is forbidden without the express written authorization from Ray Energy Corp.