Propane Winter Price Forecast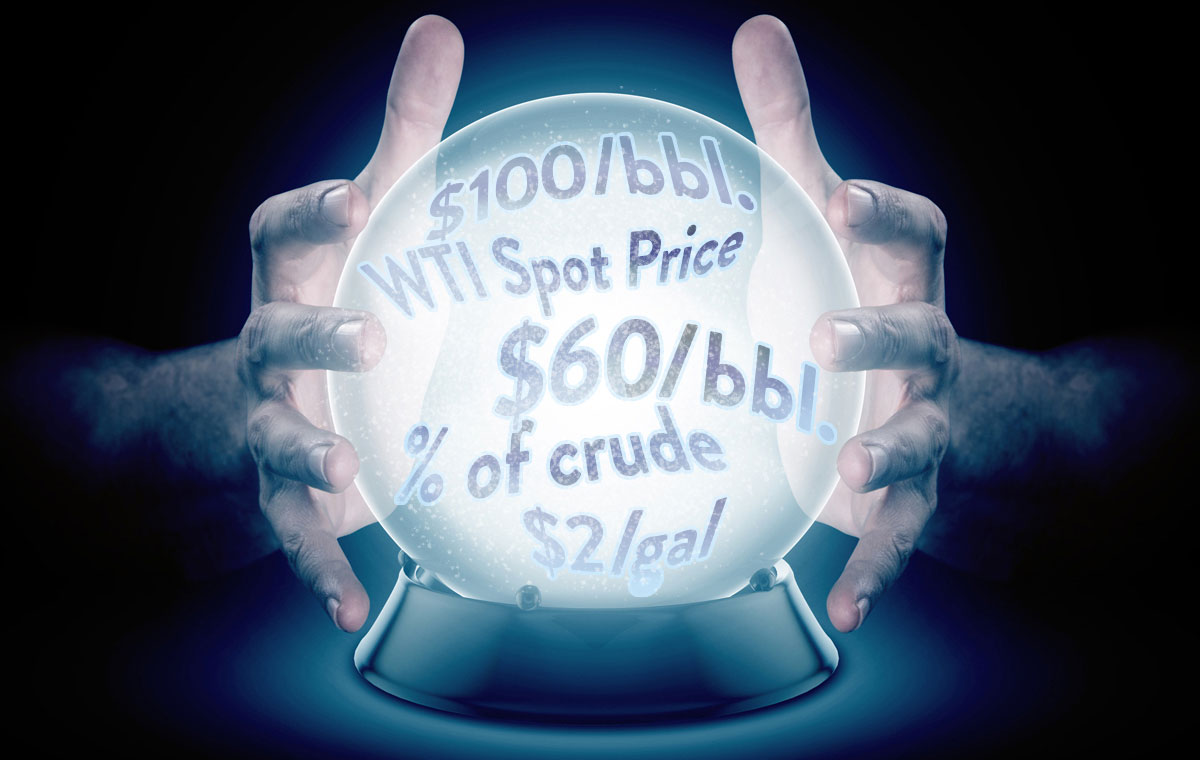 It's probably not wise to try and predict the future, but it is kind of fun, so I'll just share some thoughts and let you decide.
First Things First.
Propane prices have fallen along with crude oil since October.
But that's a good thing, right? I think we'd all rather see the current price of propane than a price spike to $2.00 per gallon.
And, if you're comfortable with propane prices being at their lowest level in 16 months we can lock in the price of propane for the balance of this winter. We can also lock in the base price for a portion of next year's propane requirements from May 2019 thru April 2020.
Market Correction or Start of a New Price Trend?
About a month ago, a customer from western Pennsylvania asked, "How can I tell the difference between a price correction and the start of a new lower price trend?"
That's a great question. And while no one can predict the future, let's look back at WTI crude oil prices over the past 10 years or so for some direction.
The major downward price trends were in 2008 ($100/bbl. drop in about 5 months) and 2014 ($80/bbl. drop in about 8 months).
In hindsight, there are always a million logical and illogical reasons for why something happens. But the largest downward price trends for crude oil in the past 30 years followed a price spike (2008) and then a series of failed attempts at new highs (2014).
Fast forward to today. Crude oil started its most recent climb in February, 2016, at $29/bbl. and reached a high near $76/bbl. in early October. Since then, crude prices have dropped. The market closed on Tuesday near $56.00/bbl., after suffering the longest daily losing streak since 1983 … the year before the original Apple personal computer went on sale.
Blame the US Dollar.
It could be that there's no end in sight to the recent drop in prices.
But for all that's happened, the price drop for crude oil and propane that we've seen in the past six weeks seems fairly calm to me. And it's been exacerbated by a rising US dollar. Bear in mind, one of the biggest factors for determining the price of crude oil is the value of the US dollar. Since the price of crude oil and the value of the US dollar generally trend in opposite directions, a stronger dollar effectively means that foreign countries need to pay more (in their local currency) for the same barrel of crude oil, which can reduce demand.
What do you think? A healthy correction or a new, lower price trend?
A Concern:
It's a little concerning that propane as a percentage of crude has been trading lately in the 51 percent range, which is on the low side and probably not sustainable. When propane trades at this level or lower as a percentage of crude oil, it encourages higher exports and creates larger inventory draws.
What's Happening with Propane Prices?
We always say that propane has two parents, and natural gas inventories are as low as they've been in 15 years to start November, while prices are as high as they've been in 4 years. We're probably still a natural gas price spike away from seeing propane rejection, but if that happens, we could lose about 20 percent of propane production.
In simple terms, "rejection" is a business practice that can occur when propane prices move in the opposite direction of natural gas prices. It becomes less economical for gas processors to separate propane from the natural gas, so they can leave more propane in the natural gas stream, within pipeline specifications.
So, we'll see what happens with propane prices this winter. No matter what we believe, prices will always have a way of surprising us!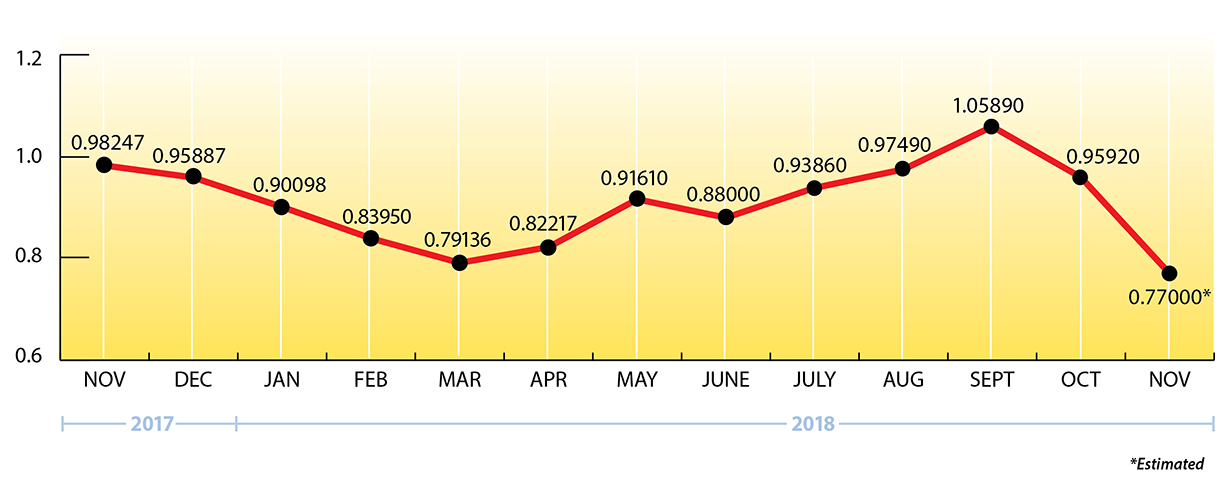 EIA Weekly Numbers
US propane inventories for the week ending 11/09/18 came in on the low end of industry expectations with a draw of .768 mmbbls. They currently stand at 79.795 mmbbls. (excluding non-fuel use propylene), on par with the five-year average.
PADD 2 (Midwest/Conway) inventories drew down by .513 mmbbls. They currently stand at 26.821 mmbbls., about 4.5% ahead of the five-year average.
PADD 3 (Gulf Coast/Belvieu) inventories drew down by .766 mmbbls. They current stand at 41.375 mmbbls. (excluding non-fuel use propylene), about 6 percent behind the five-year average.
The Skinny:
Future prices for propane are about as low as they've been in 16 months. So this may be a good opportunity to lock in the Belvieu base for a portion of next year's propane requirements from May 2019 thru April 2020.
For updated future pricing information, please contact

Justin Ray

or

Stephen Heffron

.

---
Happy Thanksgiving to you and your family from all of us at Ray Energy!

Norman Rockwell, Freedom From WantNorman Rockwell Museum, Stockbridge, MA, 1943
---
Get Stephen's insights on propane delivered to your inbox every month.
Sign up for our email newsletter here.
NOTE: The views and opinions expressed herein are solely those of the author, unless attributed to a third-party source, and do not necessarily reflect the views of Ray Energy Corp, its affiliates, or its employees. The information set forth herein has been obtained or derived from sources believed by the author to be reliable. However, the author does not make any representation or warranty, express or implied, as to the information's accuracy or completeness, nor does the author recommend that the attached information serve as the basis of any buying decision and it has been provided to you solely for informational purposes.

© 2011-2018 Ray Energy Corp. All rights reserved. Any reproduction, representation, adaptation, translation, and/or transformation, in whole or in part by whatsoever process, of this site or of one or several of its components, is forbidden without the express written authorization from Ray Energy Corp.