The Wolfcamp, a Polar Pig, and a Crystal Ball
The Wolfcamp

The Permian Basin in West Texas, containing the "Wolfcamp Shale", is the largest continuous oil field ever discovered. Formed roughly 280 million years ago, and present between 6,000 to 9,000 feet beneath the surface, there are an estimated 20 billion barrels of shale oil reserves. There is also an abundance of natural gas and natural gas liquids.
With a break-even operating cost of $40 barrel and if crude stays above that net value (currently $52) or operating costs go down, the U.S. will likely be one of the largest producers of crude oil in the world for many years to come. Rising rig counts for crude (thank you OPEC!) should keep U.S. production high and prices stable.
Propane supplies should also increase from expanded domestic crude production and it's likely that we will continue to have among the lowest prices of propane in the world.
However, that doesn't mean that there can't be some short-lived price spikes.
A Polar Pig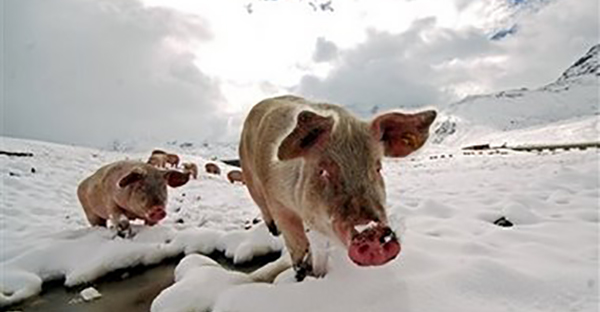 October and November were disappointing months in terms of space heating demand, but winter is finally here. Only 25% of the past 20 Decembers have averaged below normal temps, but we may have a chance at that again this year. Healthy Siberian snow cover and a weakening polar vortex are allowing this large mass of frigid arctic air (the polar pig) that circles the North Pole to break off in chunks and descend down into the north-central and northeastern U.S. in wave after wave. This large pool of arctic air moved eastward over northern Eurasia about four weeks ago (Tokyo had their first November snowfall in 54 years), then eastern Siberia, then Alaska … and it's finally here!
In my amateur meteorological opinion, the temperature change in Fairbanks, Alaska, typically precedes our weather by about three weeks. Since current weather forecasts continue to show frigid cold in Fairbanks, Alaska (about one cold wave every 10 days), we could see wave after wave of normal to below-normal temperatures into March.
What's Happening to Propane Prices?

Here are the Mt. Belvieu monthly averages for the past three months with a projection for December:
As you can see in the graph above, we've been stair-stepping up following the rise in crude oil and natural gas prices. The recent uptick started about three weeks ago, following OPEC's decision to cut production.
Two months ago we mentioned that the natural gas one-year chart looked bullish to us, with higher lows during the recent consolidation phase, which often leads to break-outs in the trending direction. Since then, natural gas prices have moved up towards their highest level in two years. And while an increase in natural gas prices should lead to an increase in the natural gas rig count, which should translate to an increase in natural gas liquids production, that just hasn't happened yet.
The Crystal Ball

So, where do propane prices go from here?
Back to the graph above, a similar pattern may be playing out with propane. During a consolidation phase (valley-peak-valley), we have higher lows (November was lower than October and December, but higher than September) and the trending direction is up.
I think the small correction in propane prices that we're seeing now will be followed by upward movement again. Also, since 90% of the country's propane is in underground storage caverns in TX and KS and there is strong seasonal demand, we could see a temporary disconnect between the Belvieu market and the downstream (spot) market.
EIA Numbers for the Week
Propane inventories fell by 3.6 million bbls. (95.6 total).
Gulf coast inventories dropped by 2.7 million bbls. (59.1); Midwest inventories fell by .7 million bbls. (25.9).
Surprisingly, U.S. propane production was down.
Not surprisingly, U.S. propane exports were up 25%.
Days of Propane Supply
| | | |
| --- | --- | --- |
| 12/9/16 | 12/2/16 | 11/25/16 |
| 77 | 86 | 91 |
Remember, the critical minimum threshold level is considered to be 25 days. At the current pace, we could reach this critical level before the end of January, so we need to pay close attention to the weekly numbers.
The Skinny:

I believe that New York and New England propane retailers collectively have under-contracted about 100,000,000 gallons for the contract season, and under-contracted roughly 75,000,000 gallons for this winter.
If I'm right, most folks will probably need to supplement their contract volumes with additional "wet gallons". A long-time customer in Massachusetts recently asked: "Before my stress level goes way up, do you have extra gas available?"
The answer to him, and to everyone reading this, is "Yes sir (or ma'am), we do!"
---
Get Stephen's insights on propane delivered to your inbox every month.
Sign up for our email newsletter here.
NOTE: The views and opinions expressed herein are solely those of the author, unless attributed to a third-party source, and do not necessarily reflect the views of Ray Energy Corp, its affiliates, or its employees. The information set forth herein has been obtained or derived from sources believed by the author to be reliable. However, the author does not make any representation or warranty, express or implied, as to the information's accuracy or completeness, nor does the author recommend that the attached information serve as the basis of any buying decision and it has been provided to you solely for informational purposes.

© 2011-2017 Ray Energy Corp. All rights reserved. Any reproduction, representation, adaptation, translation, and/or transformation, in whole or in part by whatsoever process, of this site or of one or several of its components, is forbidden without the express written authorization from Ray Energy Corp.