This Trend Is Not Your Friend
Correction or New Trend? Clues to Look For: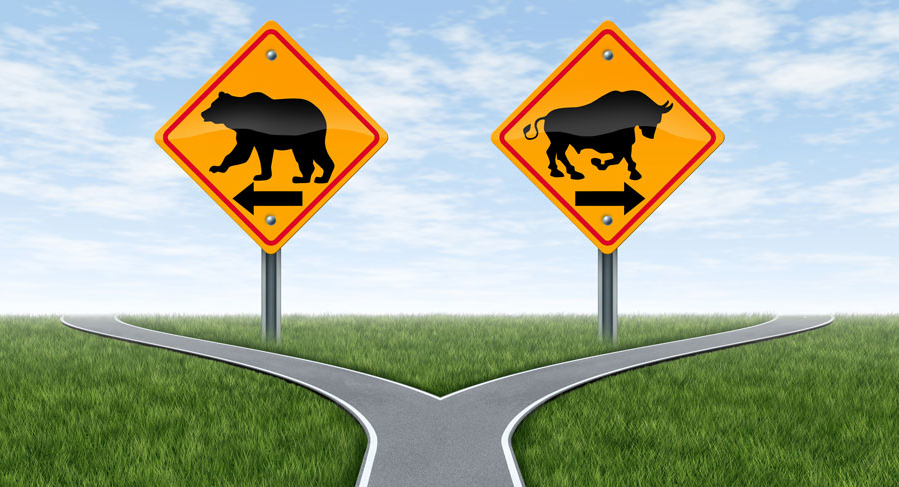 Many people think technical trading is unscientific, and perhaps it is. But can science explain everything? A logical person would say: "It's all about the fundamentals." And, ultimately, that's true. But you may need to wait a while.
To me, technical analysis provides a price forecast: "If this happens, then that should happen" based on the historical record of the daily emotional responses that move a market up and down – things like fear and greed.
Support and resistance levels are intangible things, but calculable. And, I believe you get a more complete sense of what's possible in the future when you combine a knowledge of the fundamentals with a slightly contrarian appreciation for technical analysis.
More on prices soon.
A New Propane Export Terminal:
As you probably know, export levels are up about 30% since last year.
Add a massive, new Phillips 66 export terminal in Freeport, TX, into the mix. To put this new terminal in context, they can load 2 ships at a time or about 6.3 million gallons of propane per day.
But even this colossal new terminal only represents about 10% of total exports. And total U.S. exports (Enterprise is the largest share) are only operating at 75% capacity.
What you come to realize is that high inventory levels don't mean anything anymore. It's all about production levels (supply) and export levels (demand).
EIA Numbers for the Week:
Propane inventories fell 4.5 million bbls. (79.7 new total)
Production is the highest in a month (1,768K bbls.)
Exports are the 2nd highest in 6 weeks (1,043K bbls.)
Days of Propane Supply:
| | | | |
| --- | --- | --- | --- |
| 1/11/17 | 12/9/16 | 12/2/16 | 11/25/16 |
| 55 | 77 | 86 | 91 |
Where are We Going with Propane Prices?
Here are the Mt. Belvieu monthly averages for the past four months with a projection for January.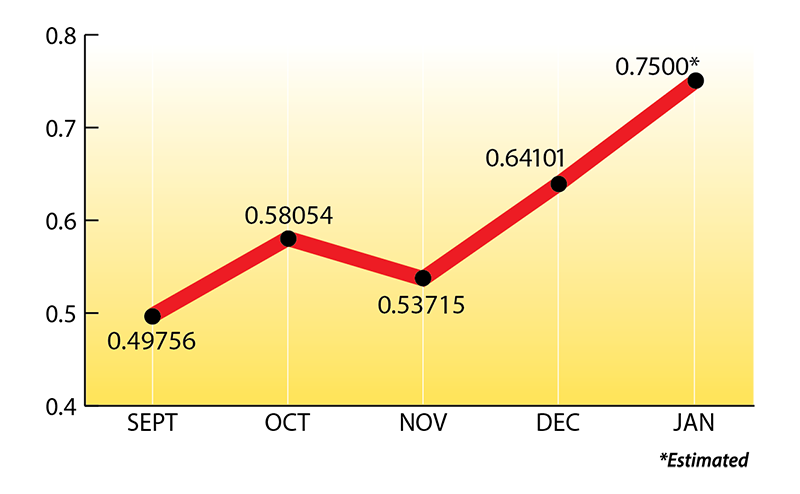 Before our discussion on price, I'd like to include an EIA chart of monthly Mont Belvieu propane prices.



The most recent, major market drop (without a substantial correction) was from $1.44 in February, 2014, to $.3360 in January, 2016.
Note the big gap down from $1.05 to $.50. That gap will be filled in or we should move lower again.
The 50% retracement level (resistance) is almost $.89.
I'm not psychic, so please don't take these thoughts for more than they're worth. But, I would not be surprised by a move towards $.88 to $1.00 gallon in the next 6 to 8 weeks.
The takeaway:

Let's hope that what we're seeing now is just a healthy correction to what is still, essentially, a bear market (trending down). We just need to stay under that top trending line! And if we do move towards $1.00 gallon, let's hope it's quickly followed by reports of record-setting production levels, sharply declining export demand, and a decent drop in propane prices.
Click here for additional data on the U.S. Energy Information Administration (EIA) concerning Mont Belvieu propane prices.
Did You Know?
The Sea-3 marine terminal in Newington, NH, was built 42 years ago. The name itself is based upon a pun: the chemical configuration of propane is C3H8, and the 3 seas which were the major sources of the imported supply: the North Sea, Mediterranean, and Caribbean. Two large, refrigerated storage containers (approximately 26 million gallons) keep the propane in a liquid state of -44 degrees.
The Harford Mills, NY, propane storage facility (just east of Ithaca, NY) has two salt dome storage caverns, with the capacity to hold about 21 million gallons of propane.
I mention these large propane facilities in New Hampshire and New York because Ray Energy has a supply position at both locations to support the logistics of our diversified Northeast rail and pipeline terminals and to meet your incremental supply needs.
The Skinny:
Back in September, we suggested: "In the current low-price environment, it would be a good idea to protect your margin and cover any remaining pre-buy exposure you may have. Ray Energy can help by converting index-priced gallons to a fixed price."
Our recommendation now, since it's only "half-time" for winter, is that you take a look at what you have contracted versus your anticipated upcoming requirements and buy a few extra loads of winter-only insurance from us.
---
Get Stephen's insights on propane delivered to your inbox every month.
Sign up for our email newsletter here.
NOTE: The views and opinions expressed herein are solely those of the author, unless attributed to a third-party source, and do not necessarily reflect the views of Ray Energy Corp, its affiliates, or its employees. The information set forth herein has been obtained or derived from sources believed by the author to be reliable. However, the author does not make any representation or warranty, express or implied, as to the information's accuracy or completeness, nor does the author recommend that the attached information serve as the basis of any buying decision and it has been provided to you solely for informational purposes.

© 2011-2017 Ray Energy Corp. All rights reserved. Any reproduction, representation, adaptation, translation, and/or transformation, in whole or in part by whatsoever process, of this site or of one or several of its components, is forbidden without the express written authorization from Ray Energy Corp.