Where Are Propane Prices Headed?
Saudi Aramco IPO
Everyone expects crude oil and propane prices to move higher. It's not really a tough call, is it? After all, OPEC agreed to extend their production cuts through 2018.
Their combined production is the lowest in 7 months.
Their quota adherence rate last month was over 130%.
Perhaps US crude producers have "gotten the message" from OPEC and won't let production get out of hand for fear that Russia and OPEC will open up the spigot and drive prices below the marginal US cost level of $50/bbl.
A conspiracy theorist may even suggest that the US administration is working with producers to keep crude prices high until Saudi Arabia makes their initial public offering (IPO) early next year for shares of their national oil company, Saudi Aramco. At an estimated $2 trillion dollars, it will be the largest IPO in the world. The quid pro quo would be: Bring your Aramco IPO to Wall Street and we won't undermine your production cuts.
So I understand why prices could go higher in the short term.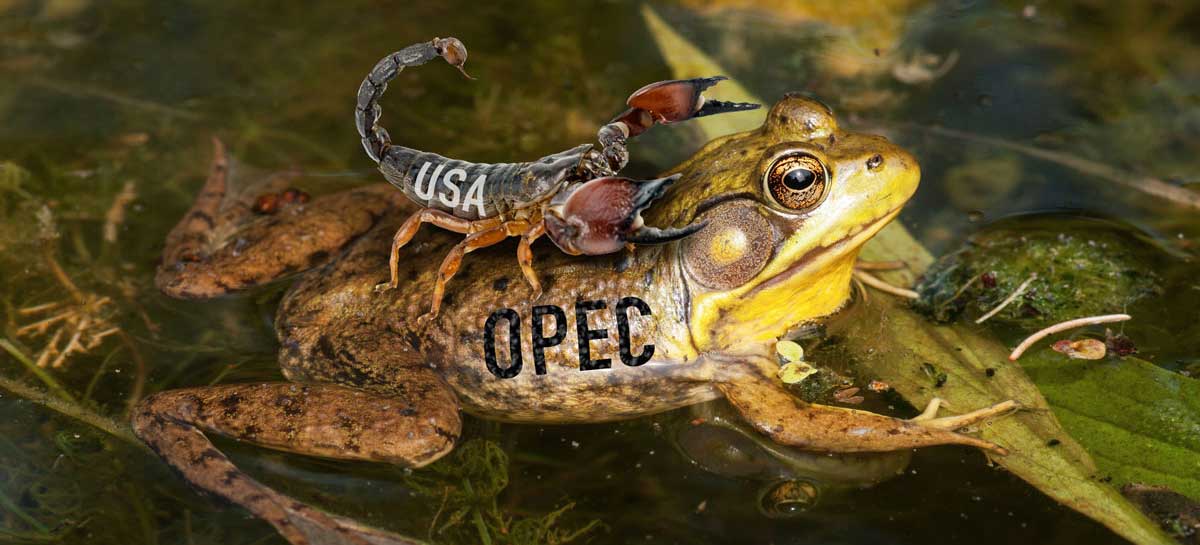 The Scorpion and the Frog
We all know the fable about the scorpion that asks a frog to carry him across a river, only to sting the frog before reaching the other side. "Why have you stung me, you silly fool?" croaks the dying frog, "For surely now, we will both drown."
"It's my nature," deadpans the scorpion.
Hedge Hog
If you're a US producer and you simply can't resist the urge to increase your production to take advantage of the highest crude prices in 2.5 years (and the chance to increase your market share while OPEC is asleep), how do you protect yourself from another market collapse?
Well, you hedge your future production. You lock in prices now by layering in sales of future production. As you increase your hedging activity at progressively more profitable levels, your 2018 budget improves, and it's much easier to get the money you need to "drill baby drill".
Not surprisingly, oil hedges have increased dramatically (145%) from Q2 to Q3, the highest quarterly percentage increase in two years. That trend is likely to continue as long as price and production continue to move higher.
The last time US crude production was higher than it is now, Tony Orlando and Dawn were recording "Tie a Yellow Ribbon Round the Ole Oak Tree."
So, let me ask you. If crude prices move higher from here ($57.68/bbl.) knowing that higher prices may tempt your domestic and global competitors to increase production, what would you do?
Hope for the best? Or continue to sell a percentage of your projected future production at higher and more profitable levels and then get cranking?
After all, it isn't a question of crude oil reserves being in short supply. It's a question of price. Let another country or company look for a chair when the music stops.
The Crown Prince
The new Crown Prince Mohammed bin Salman is a young, progressive-thinking leader who is strongly motivated to modernize Saudi Arabia, and ultimately, move his country beyond reliance on oil income.
He may even believe that oil is not the future. Sell high and get out before crude oil becomes the dinosaur!
Propane price chart
Here's a 12-year chart of posted propane prices for Mt. Belvieu, TX, and Conway, KS, courtesy of Butane-Propane News.
Note: The spot price in the graph below is similar to an OPIS average. "Group 140" is a colloquial term for Conway, KS, which refers to the underground NGL storage caverns in the area.

"How do I tell the difference between a correction and a new price trend"?
Look at the chart above. You'll see many price corrections, which help define where the support (downside) and resistance (upside) levels are. If you were to draw parallel lines along the top and bottom of these price points, two or three years at a time, you'd have a channel. As you can see, the start of every lower price trend occurs when the price breaks solidly below the lower trend line of a channel.
Any other market weakness is just a correction.
Unfortunately, we haven't had a substantial price correction since the market started moving higher in June, so we are now bumping up against the upper trend line of a rising price channel that started back in late 2015. Typically that would suggest that a price spike well above the trend line or a healthy price correction is in store for us.
Where are propane prices headed?
No one can predict the future, but it seems likely that the Belvieu propane market has tested resistance in the $1.00/gallon level and will now overreact to the recent lack of export demand and correct back towards the $0.80/gallon level.

EIA numbers for the week:
Last month we suggested that the only thing that could help propane supply levels is expanding production and declining export demand. So it was bittersweet​ to see that for the week ending 12/1/17, US propane production expanded by 25%,​ propane exports declined by 30%, and​ US propane inventories built by 1.3 mmbbls.
Well, US propane inventories built again, this time by .198 mmbbls. to 74.70 mmbbls., for the week ending 12/8/17. Total US inventories are now 21.9% behind last year and within the middle of the average range.
The recent dip in propane prices may be a welcome, but concerning, overreaction to declining export demand. Propane as a percentage of crude started yesterday at 68% – which may be too low for this time of year – given current inventory levels. Propane will likely gain some popularity as a petrochemical feedstock, both here and abroad, versus relatively higher-priced crude-derived product options. As a consequence, the recent decline in propane exports and builds in total inventory may be short-lived unless the price of crude oil comes crashing down.
What's happening with propane prices?
Here are the Mt. Belvieu monthly averages for the past 12 months with a projection for December:

The Skinny:
We've talked about why prices could go up or down, what moves markets and motivates players, and things to look for in terms of clues. No one knows with certainty what's going to happen.
One thing that you can be certain of is that Ray Energy is well prepared to meet your winter propane requirements. We've secured additional, winter-only, propane supplies for the Northeast and we're ready to rock!
P.S. I told Santa that all I want for Christmas is Peace on Earth … and some degree days in December, January, February, and March.
Seasons' Greetings and warmest wishes for a Happy New Year from everyone at Ray Energy.
---
Get Stephen's insights on propane delivered to your inbox every month.
Sign up for our email newsletter here.
NOTE: The views and opinions expressed herein are solely those of the author, unless attributed to a third-party source, and do not necessarily reflect the views of Ray Energy Corp, its affiliates, or its employees. The information set forth herein has been obtained or derived from sources believed by the author to be reliable. However, the author does not make any representation or warranty, express or implied, as to the information's accuracy or completeness, nor does the author recommend that the attached information serve as the basis of any buying decision and it has been provided to you solely for informational purposes.
© 2011-2017 Ray Energy Corp. All rights reserved. Any reproduction, representation, adaptation, translation, and/or transformation, in whole or in part by whatsoever process, of this site or of one or several of its components, is forbidden without the express written authorization from Ray Energy Corp.