Honest Dealings and Strong Work Ethic: A Family Company's 113 Years in Business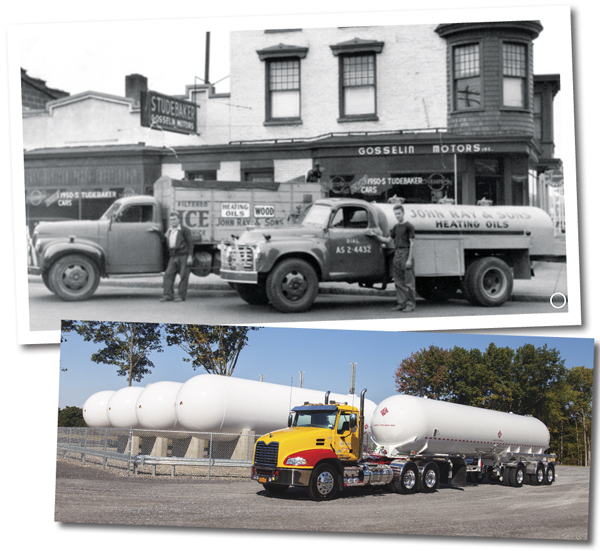 By Laura Mohammad for Butane Propane News
John Ray was 16 and had his mother to support and a new town, Troy, NY, to get to know.

There was one business John knew — ice. His father had been the foreman of a major ice company. John paid $60 for a horse and wagon and launched his own business, harvesting ice off of the Hudson River. So begins the Ray & Sons and Ray Energy story, with four generations of work ethic, honest dealings, and loyal employees.
&dquo;There's no brag in them," says business development executive Glenn Young. Referring to Ken Jr., the grandson of John and today's president of Ray Energy, Young says "Ken never gets up and says, 'Look at me.'" But the Ray family works hard for its customers and has survived and thrived as a result.
Jack the Horse

John Ray was known as a stern man, says Ken Jr., and was a product of his times. But he honored tradition. "He always stayed with a horse and wagon." One horse loomed so large in John's world that the family still talks about "Jack the horse," says Young. "They would talk about Jack the horse, and how much he loved Jack the horse."

Eventually, John's three sons, including Ken Sr., would join the business. The company would come to be called Ray & Sons, with the slogan "Winter Frost for Summer Use."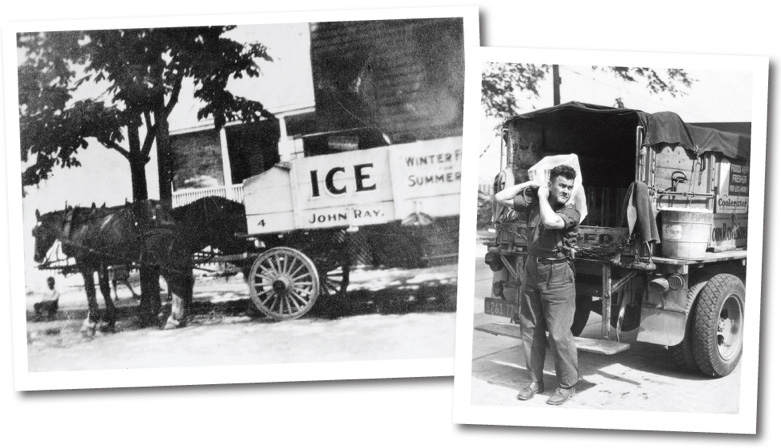 According to Stephen Heffron, marketing vice president of Ray Energy, almost every family had an ice box at the turn of the 20th century. "If a customer needed ice, they would put a sign in the window to let the iceman know how many pounds of ice to deliver that day."

Even back then the family was recording company and family history. Young describes a photograph of young Ken Sr. standing nearby as ice is being cut. Another shows one of Ken Sr.'s half-brothers, also then a young man, loading a truck. In fact, says Young, the family has seven large photo albums of the family and business operations.
Ken Sr. would naturally go into the family business, and even expand the enterprise into kerosene fuel in the late 1940s after the death of his father. "In 1947 it was the fuel of the day," says Young. "Everyone told him not to buy a truck, not to go into the kerosene business." But it was the beginning of the family's love affair with energy fuel. Fuel oil, wood, coal, diesel, and gasoline were all dipped into over the next 70 years, with the company eventually getting into propane in 2003.

As the company grew, the next generation of Rays joined, with Ken Jr. signing on at age 18 in 1975. It was a tough time for the industry, but the Rays saw it through.

"There were 15 oil businesses in the 1970s, and when natural gas came through, everyone, one by one, went out of business, and [the Rays] were the last ones standing," says Young. "They didn't say 'We're the greatest.' They did what [their] mother said to do — they worked hard and treated people right."
---
"We Are Served the Way We Serve"
After nearly 115 years of serving the Northeast, Ray & Sons, and now Ray Energy, have developed a supply line that ensures clients' needs are addressed.
Whether the need was for ice in the home in the early years or later both retail and wholesale energy supplies, the Ray family has been there for the community.
Today, Ray Energy provides premium gasoline and fuel products, including ethanol-free, high-performance gasoline through gas stations in New York's greater Capital Region and in Bennington County in Vermont. Ray Energy is the exclusive supplier of PitStop High-Performance Gasoline, RealGas Plus, and Captain's Choice Marine Gasoline. A midstream propane service area spans nine states in the Northeast from Maine to Pennsylvania and New Jersey.
"Ray Energy's midstream wholesale propane division is known for its strategic supply capabilities that include pipeline, rail, refinery, and marine sources," comments Stephen Heffron, Vice President of Marketing for Ray Energy. "The company also operates a fleet of transport delivery trucks and maintains its own logistics services to further ensure reliable and timely propane deliveries to industrial and wholesale customers."
"It's refreshing to work with a small, talented team that's focused on people first," says Heffron, "and doing whatever it takes to serve the customer. Ken Ray has worked hard to develop a great product, from supply point to delivery."
"For a wholesale propane supplier, the key to having a reliable supply of propane is to have a balanced and diversified supply portfolio, which we've developed," says Heffron. "We are shippers on the TEPPCO pipeline, we work with five Northeast rail terminals, and we have refinery and marine supply. We also have our own fleet of transport delivery trucks to further assure customers of an on-time delivery. But none of it would matter without our customers."
Customer Karen Gillespie Korrow, owner of Gillespie Fuels & Propane Inc. in Northfield, VT, has a longstanding working relationship with Heffron and went with Ray Energy when Heffron joined the company in 2015. She says, "Ray Energy has been exactly what we hoped for. They are very customer-oriented. We receive the order exactly when they say they'll send it."
"Ray has been hands-on. We are served the way we serve. We are undergoing tremendous growth like they are," and the feedback from her drivers has been excellent, says Korrow.
"People talk about firing their customers," says Ray Energy business development executive Glenn Young. "We don't fire customers. We take the good and the bad, and we come out somewhere great."
---
Walking in 18 Inches of Snow (Really!)
That work ethic has carried through generations of the family, from grandfather and from son to son. "In 2005, on Valentine's Day, we had 18 inches of snow," says Young. "The father would come into work at 4:30, Ken would come in at 5:30, I would come in at 6:00. When I came in that day, I saw that the father's car wasn't there. Ken told me, 'My dad walked to work.' The Rays, like many small business owners, are worker bees. Ken had such joy on his face, in his eyes, when he said it.

"The father is tough, a wonderful man, a family man. At 9:30, I took the dad home, and I joked, 'If I get stuck, you are getting out and walking home.' He said, 'Yes, I am.'"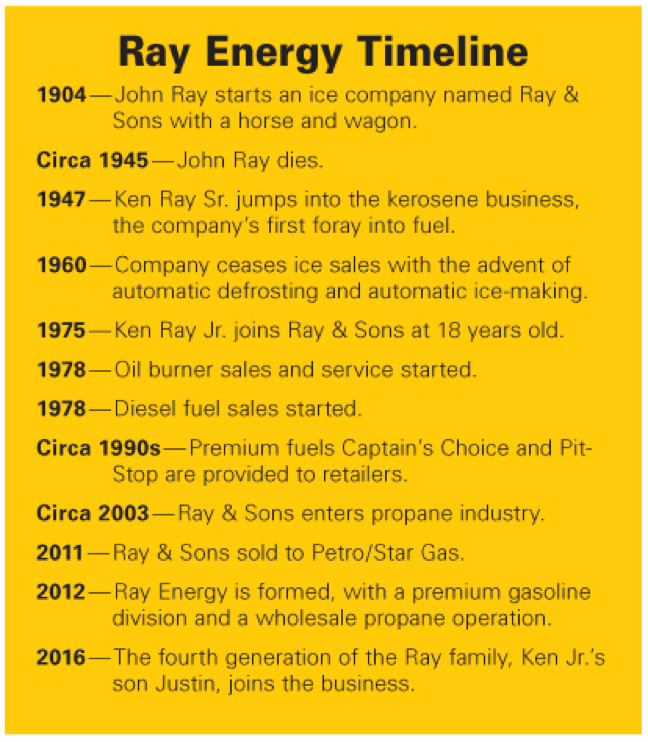 The company would grow to $100 million in sales, with more than 70 employees. In 2011, Ray & Sons was sold to Petro/Star Gas, divesting the retail fuel oil, propane, and diesel divisions. With Ray & Sons went Young as the general manager. "First person I gave a key to was Ken Sr.," who, at about 90, did various tasks for the company, Young says.

Ken Sr. always gave a firm handshake, Young says. At 95, "he still got out of a chair faster than a 40-year-old. He was an old-fashioned gentleman, working six days a week." Indeed, Ken Sr. worked until he was 92, according to Young.

Young stayed with Ray & Sons for 18 months, then moved on to another job. But Young couldn't stay away from the Rays. Soon after the sale, Ken Jr., who had retained the premium gasoline division and the midstream propane operation, started Ray Energy, and Young followed in 2014.
"I like to say that there's nothing easy about Ken Ray [Jr.], but he's the best boss I've ever had," says Young. "He extends trust before trust is earned. He presumes you're going to work great. He trusts you. In America, people want to micromanage. Not Ken. He is the greatest person to get production out of [his employees]."

Today, Ray Energy, with 15 employees and nine transport delivery trucks, focuses on its premium gasoline division and midstream propane operation.

Ken Jr.'s son, Justin, who is 29, joined the firm in recent months.
"It's wonderful; not too many companies are in business as long as us. It's unusual," says Ken Jr. "Family businesses are certainly an interesting dynamic. But it was beneficial for father and son for Justin to work somewhere else first."

Young says, "They give back to the community, their employees love them, but they don't have a lot of brag in them. Ken Jr. is not a back-slapper, he's a worker bee. He gets up early in the morning. He believes if you take care of your customers, they'll stick with you."
Originally published in Butane-Propane News on April 19, 2017.
Reprinted with permission.

Copyright © 2000-2017 Butane-Propane News (BPN). All Rights Reserved.