Propane Safety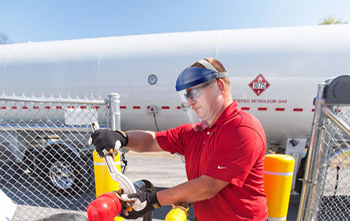 Safety is a top priority at Ray Energy and we work continuously to maintain and improve our process safety management and our personal safety performance.
We value the commitment, knowledge, and expertise of our personnel in ensuring all facets of our operations are performed with a safety-first perspective. We understand the importance of our responsibilities to our contractors, local governments, neighbors, and surrounding communities. Our relationship with local fire departments allows us to partner with them in annual safety trainings at our facilities. And we adhere to the proper implementation and execution of industry safety standards and disciplines.
Our propane facilities employ both passive and active safety methods, are monitored by video surveillance, and are 100% compliant with all local, state, and federal regulations. We are proud of our excellent safety record and maintain a diligent risk assessment process to determine potential issues and apply appropriate safeguards.
All facility and logistical staff receive ongoing safety, technical, and regulatory compliance training and all drivers and contractors have access to safety manuals, operating procedures, training, and site orientations.
From our drivers to our facility staff and management, we are dedicated to promoting health and safety and view it as one of our core company values.
---
Educational and safety information for consumers and technical information regarding propane logistics and storage, safety regulations, and handling procedures can be reviewed and downloaded from the PERC Resource Catalog.