Ray Energy Opens New Propane Rail & Truck Terminal to Serve Northeast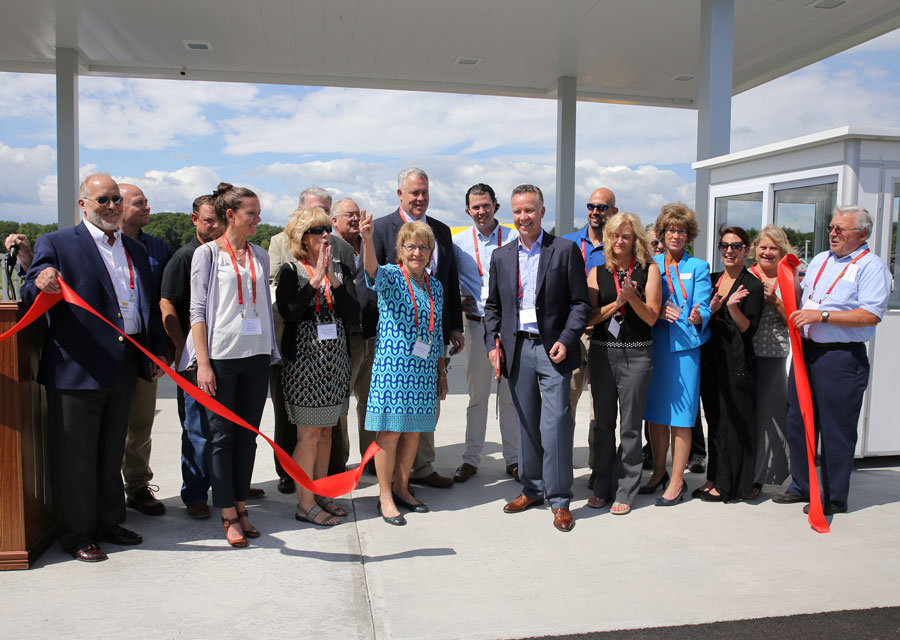 HAMPTON, NY -- Ray Energy celebrated the grand opening of its new Propane Rail and Truck Terminal in Hampton, NY, with a ribbon cutting and open house on August 23, 2018.
The new 21-acre facility has a 16-spot rail siding (with an operational capacity of 28) and on-demand switching provided by Vermont Railroad. The company's railcar mover provides the ability to offload 16 cars per day.
Four 60,000-gallon bulk tanks provide storage for 240,000 gallons with expansion approved for up to 360,000 gallons. Added to the 480,000 gallons that can be stored on rail cars, the facility will have the ability to store 840,000 gallons ensuring plenty of fuel availability to meet the demand during peak winter months.
Two dual-sided rail towers with retractable arms can unload two rail cars in three hours. Previously installed piping allows the company to bring two additional dual-sided rail towers online with minimal lead time.
"With the increase in propane demand, the Northeast depends on approximately 75 percent of its propane supply from rail, an increase of over 50 percent from a few years ago," said Ken Ray, President of Ray Energy. "Our location on the border of New York and Vermont was strategically selected to better serve propane marketers in the Northeast. We can now reliably supply our customers the volumes they need – any time of year – with improved safety and service capabilities and better efficiencies."
The truck loading rack currently has two operational lanes each with their own dedicated pump and loading station reducing wait time during the peak winter season. State-of-the-art technology provides electronic data transmission of every load and smart hoses secure product and protect personnel.
The third truck loading stanchion is expected to be online by the end of the year with expansion for a fourth independently operated truck loading bay planned for 2019.
The new facility houses a new office building with room for propane safety trainings, video conferencing and meetings, and a driver's area complete with hot and cold drinks, restroom, and complete safety information area.
The Ray Energy Propane Rail & Truck Terminal will provide safer fuel access and better management while helping to reduce truck and rail traffic to and from the Albany, NY, terminals, GHG emissions, and infrastructure pressure on NYS highways. It also offers on-site back-up power which can be delivered as needed to emergency outage sites.
Propane marketers who are interested in learning more about Ray Energy's Propane Rail & Truck Terminal should contact:
Stephen Heffron at sheffron@rayenergy.com or 518-527-9194
Glenn Young at gyoung@rayenergy.com or 518-527-8068
Justin Ray at justinray@rayenergy.com or 518-874-4510
For more information on Ray Energy, please visit www.rayenergy.com.
About Ray Energy Corp.
Founded in 1904, Ray Energy Corp. is a midstream wholesale propane supplier utilizing a strategic supply system incorporating multiple propane midstream locations, supply scheduling, and coordination of a diversified portfolio of assets to achieve the ultimate goal of providing their customers an extremely reliable supply of propane. The company also provides programs to manage price volatility, reducing risk and protecting profitability.
The fourth-generation family company continues the tradition of outstanding service and customer satisfaction established by the Ray family over a century ago. The company is committed to the reliable delivery of high-quality fuel products and pursuing new and innovative energy technologies.