2020-2021 Pre-Buy Pricing
The price of Belvieu propane has been generally trending down since hitting a high-water mark in July 2008.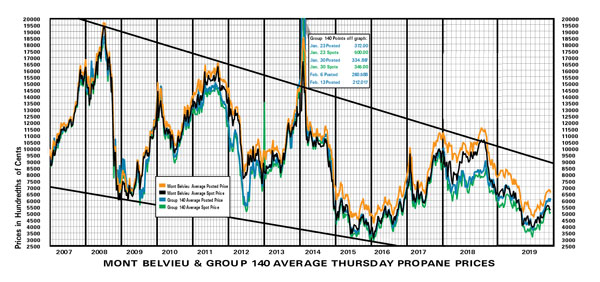 (Chart courtesy of Butane-Propane News. The channel lines are mine.)
Can the Current Price Go Lower?
Absolutely. Propane industry veterans that are long in the tooth can remember when propane was free, mostly at refineries. "Pick it up on the weekend and it's yours."
But we don't even need to go back 50 years to find stories about free propane; similar conversations took place in western Canada only five years ago.
Fundamentals & Emotion
Last fall, some energy experts were making the case for why a big decline in propane stocks was a real possibility this winter. It's hard to imagine that happening now after we've seen Gulf Coast inventory builds in three of the last five weekly reports. The Belvieu market has reacted to the contra-seasonal inventory builds as you'd expect, and propane as a percentage of crude is now near 30 percent, about as low as it's been in years.
So, does the recent market softness present a buying opportunity for 2020-2021?
The current fundamentals of US propane supply and demand aren't giving us any indication that future demand will rapidly outpace future production. But heavy export demand, strong petrochemical demand, and reduced propane production from gas plants could change things quickly. And emotion (fear, in this case) can move a market even more quickly than fundamentals should something unimaginable happen on the world stage.
How to Decide?
If you decide to jump in, here are two questions to ask yourself:
Is there a lot of downside to the current price of propane?
Since prices are about as low as they've been in more than a decade, and propane is trading near a historically low percentage to crude, it seems reasonable to think the downside risk is fairly minimal. But you never know …
Am I comfortable starting to lock in future prices at this price level, even if prices should go lower?
Since there is speculation involved, only you can answer this question. One thing that's certain, especially for industrial or commercial accounts, is that a known cost that's lower than last year helps with annual budget forecasts.
Justin Ray
Justin Ray does a great job working closely with the energy trading community on a daily basis, and he'll gladly help you with a pre-buy quote. If you're interested in talking about a locked-in price for the 2020/2021 contract season, you can reach Justin here.
What's Happening with Propane Prices?
Propane inventory builds in December and early January are never a good thing for higher prices. But that's exactly the kind of unusual event that may make this an excellent buying opportunity.
Propane Price Chart

EIA Weekly Numbers
Total US propane inventories showed a slightly greater than expected draw of .947 mmbbls. for the week ending January 10, 2020. That brings national inventory levels (excluding non-fuel use propylene) to 81.804 mmbbls., approximately 31 percent ​ahead of last year​.
PADD 2 (Midwest/Conway) inventories showed a minimal draw of​ .213 mmbbls. They currently stand at 19.264 mmbbls., roughly 3 percent ​behind ​last year.
PADD 3 (Gulf Coast/Belvieu) inventories showed a modest draw of​ .393 mmbbls. They currently stand at 52.855 mmbbls. (excluding non-fuel use propylene), and are about 59 percent higher than last year​.
The Skinny
Warm weather.
Gulf Coast builds in winter.
National inventory levels about 21 percent above the five-year average.

All these factors have had the predictable effect of driving propane prices down towards the lowest price levels we've seen in more than a decade.
But, just like stormy weather in the Plains, change can happen quickly!
We'd be glad to help you lock in the Belvieu base price for a portion of your 2020-2021 contract volume with us. If you're interested, please click here.
---
Get Stephen's insights on propane delivered to your inbox every month.
Sign up for our monthly newsletter here.
For more frequent updates and industry news, join us on LinkedIn.
---
NOTE: The views and opinions expressed herein are solely those of the author, unless attributed to a third-party source, and do not necessarily reflect the views of Ray Energy Corp, its affiliates, or its employees. The information set forth herein has been obtained or derived from sources believed by the author to be reliable. However, the author does not make any representation or warranty, express or implied, as to the information's accuracy or completeness, nor does the author recommend that the attached information serve as the basis of any buying decision and it has been provided to you solely for informational purposes. © 2011-2020 Ray Energy Corp. All rights reserved. Any reproduction, representation, adaptation, translation, and/or transformation, in whole or in part by whatsoever process, of this site or of one or several of its components, is forbidden without the express written authorization from Ray Energy Corp.