A Nervous Time?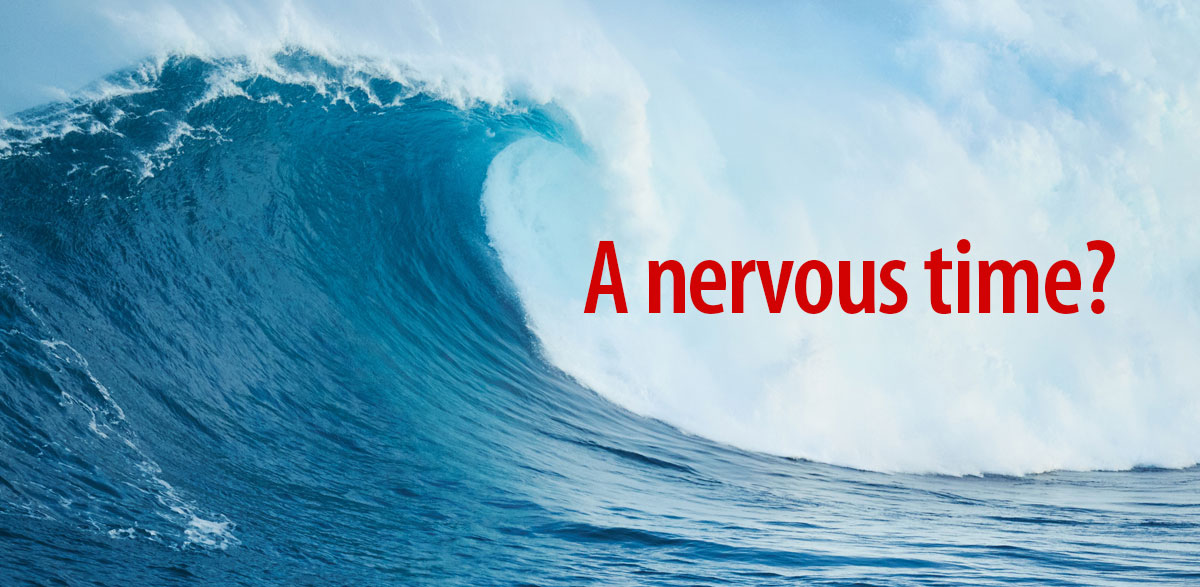 An Unwelcome Surprise.
Like a tsunami, the price of Belvieu propane has been surging relentlessly. No one should panic yet, but it is time to be concerned.
The price has increased over 65 percent since November and more than $.35 per gallon since early December. That's elevated propane as a percentage to crude into the lofty 75 percent "go-away exports!" range.
We can attribute propane's sudden ascent partly to higher crude oil values and strong petrochemical interest, but record-setting export demand is what's really driving the bus pulling Gulf Coast inventory levels down and pushing prices up.
And like most surprises, few people saw this coming. Certainly not the magnitude of the drawdowns.
The best proof of this statement is that the OPIS poll of market participants and industry experts (weekly EIA inventory estimates) underestimated the total weekly drawdowns in December by a surprisingly large amount (50 percent) and again last week (4.13 draw estimated, 6.73 draw actual).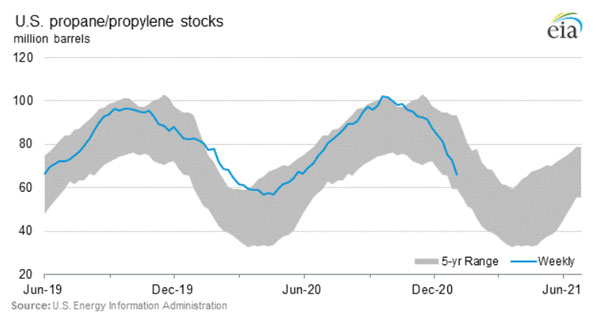 It's the sharp angle of the drop on the EIA propane supply graph above that's cause for concern.
Shock and Awe.
Next, here is a Days of Supply (DOS) chart. (It's a measure of the adequacy of inventories calculated by taking current stock levels and dividing by product supplied as an estimate of demand).
For comparison, we've included the last seven years DOS with the low-point date.

Here's the "shock and awe" part. Note that each low point from 2020 back to 2014 is near the current DOS level, with the exception of 2014.
But the low-point dates (in parenthesis above) are all in February and March, not January! And when the U.S. bottomed out at 17.5 days of supply on 2/7/14, the weekly average for Belvieu propane was $1.58/gallon.
Where Will Propane Be in Six Months?
History has shown that propane prices that are near the 75 percent value to crude range (the five-year average is near 50 percent) are unsustainable. But all bets are off until the record-setting export demand subsides.
Looking forward, Goldman Sachs recently pushed up their bullish oil price forecast by six months, placing Brent crude at $65/bbl. in July rather than December. Morgan Stanley is slightly less bullish with $60/bbl. Brent forecast for second-half 2021.
So let's assume (for fun) that WTI trades between $57/bbl. to $62/bbl. this summer, and let's also assume that exports have quieted down by July and propane's percentage to crude is a more reasonable 55 percent.
That would put the price of propane around $.7790 per gallon FOB Mt. Belvieu, TX, for this summer, slightly higher for next winter. That's the best estimate for future propane prices that I can make at the moment.
Pre-Buy Prices?
We can lock in the Mt. Belvieu, TX, portion of your propane supply now for next contract season or next winter (with 2021/2022 summer/winter differentials to be determined). If you're interested in a pre-buy quote, please contact Justin Ray.
What's Happening with Propane Prices?
My wife asked me a few weeks ago about the invoice for the last bobtail delivery to our home in New Hampshire. "The price is twenty cents per gallon higher; is that right?" I told her that it was right. But I didn't have the heart to tell her that the next invoice will show a much bigger jump!
Propane Price Chart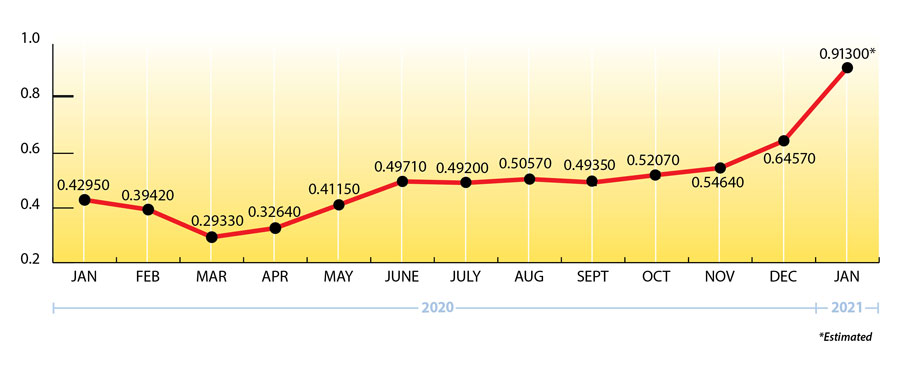 Weekly Inventory Numbers
U.S. propane inventories showed a greater than expected draw of 6.7 mmbbls. for the week ending January 8, 2021. That brings national inventory levels to 66.0 mmbbls., about 19 percent behind last year and 12 percent behind the 5-year average.
PADD 2 (Midwest/Conway) inventories had a healthy draw of​ 1.7 mmbbls. They currently stand at 18.7 mmbbls., roughly 3 percent behind ​last year.
PADD 3 (Gulf Coast/Belvieu) inventories recorded a robust draw of​ 4.3 mmbbls. They currently stand at 35.0 mmbbls., nearly 34 percent behind last year.
The Skinny
It looks like we're in for a bumpy ride, at least for the next month or so.
As long as export demand stays strong … and until storage becomes the preferred option … all uncommitted propane supply that can do so will likely flow to the North American export terminals as well as (good news) the downstream markets.
Why? There's strong demand and the market is in steep backwardation (worth less each forward month), so these are the best options.
---
Get Stephen's insights on propane delivered to your inbox every month.
Sign up for our monthly newsletter here.
For more frequent updates and industry news, join us on LinkedIn.
---
NOTE: The views and opinions expressed herein are solely those of the author, unless attributed to a third-party source, and do not necessarily reflect the views of Ray Energy Corp, its affiliates, or its employees. The information set forth herein has been obtained or derived from sources believed by the author to be reliable. However, the author does not make any representation or warranty, express or implied, as to the information's accuracy or completeness, nor does the author recommend that the attached information serve as the basis of any buying decision and it has been provided to you solely for informational purposes. © 2011-2021 Ray Energy Corp. All rights reserved. Any reproduction, representation, adaptation, translation, and/or transformation, in whole or in part by whatsoever process, of this site or of one or several of its components, is forbidden without the express written authorization from Ray Energy Corp.