Is the U.S. Shale Industry Under Seige?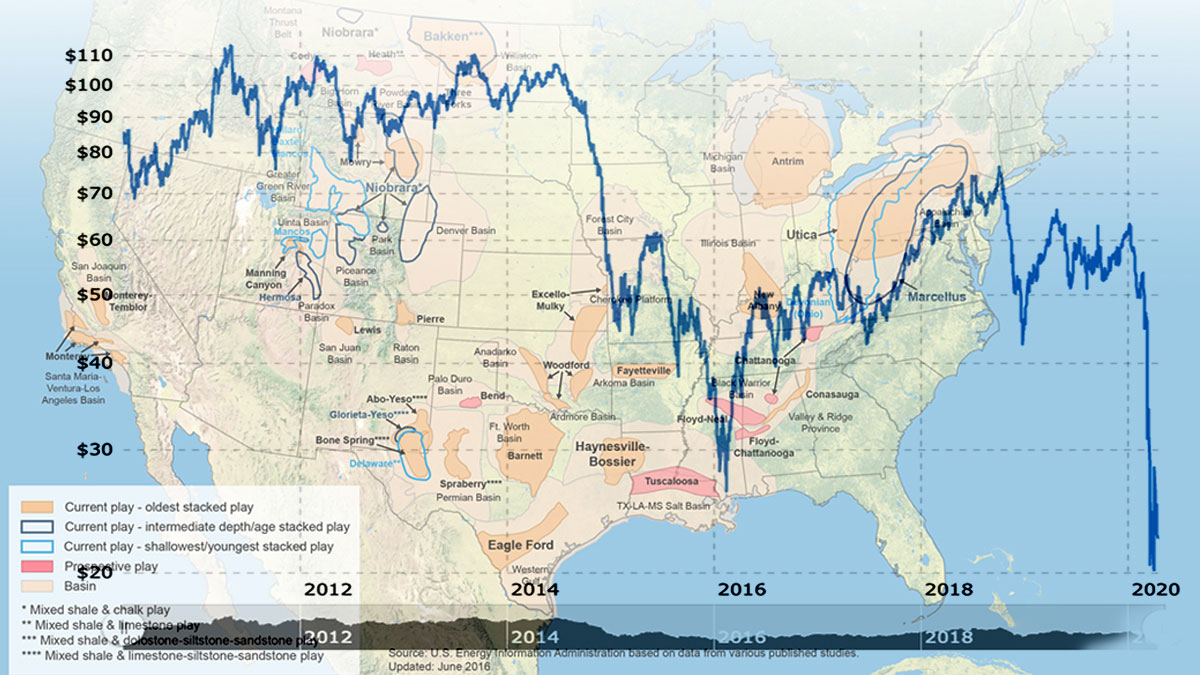 The impact of coronavirus and low oil prices on U.S. shale and the propane industry

How did U.S. shale get here?
The seeds for U.S. energy independence were sown in 1973, following the Arab-Israeli war and the subsequent oil embargo.
But it wasn't until 1998 that horizontal drilling and new techniques in hydraulic fracturing became an economical way to extract crude oil and natural gas from shale formations. This new technology became an industry standard over the next 13 years, allowing shale oil production to expand exponentially.
It turned heads, and drew world attention, before being followed by two boom-to-bust cycles.
Each "whack-a-shale-mole" moment (2015, 2020) was the result of a 75% drop in the price of crude oil. In between, the "boom" times were very good, and in 2018 the U.S. moved past Saudi Arabia and Russia to become the largest producer and exporter of crude oil, natural gas, and natural gas liquids in the world.
No small irony.
It's no small irony that Saudi Arabia and Russia have been letting global supply and demand set the fair market price for crude oil, allowing economic forces to cull the herd, while U.S. diplomatic efforts have attempted to convince a king and a czar that America wants to be an eager participant in production cuts to raise energy prices. But involuntary U.S. production cuts were going to happen anyway.
The chart below shows the net change and the forecasted drop in U.S. crude oil production and natural gas plant liquids production from 2018 to 2021.
So what now?
The immediate challenge, and one reason for low oil prices, is a lack of physical storage. You can't make what you can't sell or store. Demand destruction is lowering refinery utilization rates (output) to the lowest level in decades, but it's still not enough.
And the simple fact is that the current low price of energy commodities in the U.S. is unsustainable. The cost of extraction and processing is higher than the price of the finished products.
How does this play out?
It's been 34 years since this happened ($10 crude in 1986) but major banks are once again beginning to establish "holding companies" as they prepare to take over ownership and management of oil and natural gas assets. Nearly half of all shale producers are at risk of insolvency and default on their debts unless oil prices rise back towards $45.00 bbl., and natural gas prices rise towards $2.50/MMBtu. This is especially true for those companies that are not well-hedged or have no storage options due to record high inventory levels and a record loss of demand.
What could this mean? I imagine we'll see a lot of consolidation in the energy industry, as the assets of smaller shale producers get bundled together and packaged for a future sale.
Retail propane challenges.
Retail propane companies are challenged, too. Current demand is down on the heels of a mild winter. Projected demand is down. Companies are concerned about the real impact of reduced summer demand and they're struggling to forecast their future propane requirements at a time of so many variables.
Propane Price Chart

EIA Weekly Numbers
NOTE: The EIA is no longer including non-fuel use propylene in their weekly inventory numbers, so our inventory reports will no longer break it out.
Largely due to a robust export draw of 1.891 mmbbls. from PADD 1 (East Coast), US propane inventories showed a total draw of 2.247 mmbbls. for the week ending April 10, 2020. That brings national inventory levels to 56.780 mmbbls., approximately 12 percent ​ahead of last year​ and now only 18 percent ahead of the five-year average.
PADD 2 (Midwest/Conway) inventories showed an insignificant draw of​ .059 mmbbls. They currently stand at 10.609 mmbbls., roughly 14 percent ahead of ​last year.
PADD 3 (Gulf Coast/Belvieu) inventories showed a modest draw of​ .368 mmbbls. They currently stand at .41.617 mmbbls., about 12 percent higher than last year​.
The Skinny
There is a lot of concern about production drops. But we make more than enough propane in the US to keep most of it here for our homeowners, commercial accounts, farmers, and industries. We just need to be willing to pay a little more for it than the rest of the world. (That's currently about $0.55 per gallon FOB Mt. Belvieu, TX).
We know that stress levels are high. You probably have a million things on your mind, foremost being the health and safety of your family and employees. But you are also worried about the health of your business. Let Ray Energy take one worry (propane supply) off your plate. Tell us what you need. We can help!
---
Get Stephen's insights on propane delivered to your inbox every month.
Sign up for our monthly newsletter here.
For more frequent updates and industry news, join us on LinkedIn.
---
NOTE: The views and opinions expressed herein are solely those of the author, unless attributed to a third-party source, and do not necessarily reflect the views of Ray Energy Corp, its affiliates, or its employees. The information set forth herein has been obtained or derived from sources believed by the author to be reliable. However, the author does not make any representation or warranty, express or implied, as to the information's accuracy or completeness, nor does the author recommend that the attached information serve as the basis of any buying decision and it has been provided to you solely for informational purposes. © 2011-2020 Ray Energy Corp. All rights reserved. Any reproduction, representation, adaptation, translation, and/or transformation, in whole or in part by whatsoever process, of this site or of one or several of its components, is forbidden without the express written authorization from Ray Energy Corp.