Propane and NASCAR
Waiting for the green flag: Why have regional propane supplies been so tight?
All roads are closed.
This explanation starts on the demand side and ends on the supply side.
We mentioned last month that the current low price of energy commodities in the U.S. is unsustainable. The cost of extraction and processing is higher than the value of the finished products which translates to lower well counts.
But there's more to the story.
We don't always think about cause and effect. But when refineries cut back their utilization rates by 15 to 40 percent due to lack of transportation demand for refined products (gasoline, diesel, and jet fuel), it has a ripple effect and backs up the distribution to refineries and oil sands markets of heavier natural gas liquids than propane (natural gasoline and condensate).
This, in turn, leads to more shut-in wells (at least temporarily) which reduces the production of natural gas liquids. Propane becomes a victim of circumstance.
The impacts from this chain reaction affects only existing wells. When it comes to drilling for new wells, as Johnny Depp said, "Fuggetaboutit."
Here's a graph that shows what a difference a year can make in terms of new well counts. It doesn't include all of the shale regions, but it is indicative of what the energy industry is facing now: the largest monthly decline of new well counts and production cuts in history.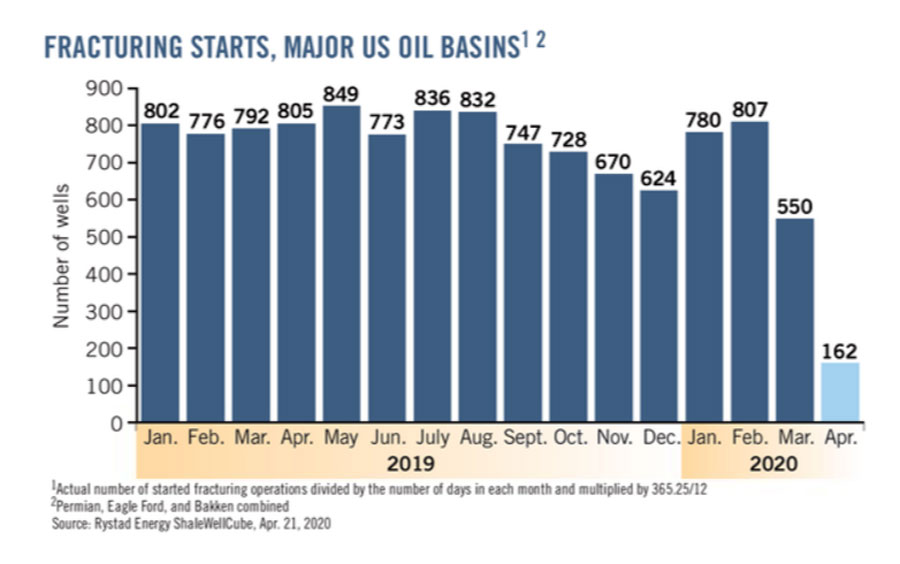 NASCAR.
The condensate and natural gasoline example above is another illustration of how demand destruction can end up affecting propane supply.
And now, the current state of affairs is like a NASCAR race after a crash when the yellow caution flag comes out.
The production of propane has slowed down … waiting on stronger demand for refined products to pick up … so that stronger demand for crude oil (the pace car) can pick up … so that prices can recover and everything can start speeding away again.
But when will that happen? July, August?
(Interesting note: Natural gasoline has an octane rating near 40 which probably wouldn't help Kyle Busch's #18 car win today, but worked 100 years ago in early combustion engines).
Stay home. Stay safe.
(on Seneca Lake, Moosehead Lake)
Following a cold April, we've seen steady demand from winter-like weather in May. Homeowners are flocking from urban areas to their second homes in the country or staying with relatives that live in rural areas. They're also opening up mountain and lakeside camps earlier than normal. This has increased retail demand at a time when the regional availability of extra supply is unusually tight.
What's happening with propane prices?
So far, the lowest propane prices of the year occurred back in March, but they're still very low compared to the long-term average. It wouldn't surprise me if crude oil prices move back towards $40.00 bbl. by the end of the year, which could put propane prices around .55 cents per gallon FOB Mt. Belvieu, TX. We'll see!
Propane Price Chart

EIA Weekly Numbers
A minimal build in the Gulf Coast was padded by larger increases on the East Coast and the Midwest to deliver a weekly build that was on the higher end of industry estimates.
U.S. propane inventories showed a total build of 2.249 mmbbls. for the week ending May 8, 2020. That brings national inventory levels to 61.625 mmbbls., approximately 20 percent ​ahead of last year,​ but only 15 percent ahead of the five-year average.
PADD 2 (Midwest/Conway) inventories showed a healthy build of​ 1.043 mmbbls. They currently stand at 13.031 mmbbls., roughly 8 percent ahead of ​last year.
PADD 3 (Gulf Coast/Belvieu) inventories showed a modest build of​ .236 mmbbls. They currently stand at 41.360 mmbbls., about 21 percent higher than last year​.
The Skinny
Spring is traditionally the time of year when we see a buyer's market for propane. This year is different. Why? Historically low prices, lower production, good demand, and ample storage are the ingredients that have created a strong seller's market.
Based on fewer new wells and declining production from existing wells (output typically peaks around the third month of operations), I would expect regional propane supplies to stay a little tighter than normal for a couple more months.
Please be assured that Ray Energy has the resources, the market knowledge, and the industry experience to guide you through this unusual time.
May Peace Be With You.
---
Get Stephen's insights on propane delivered to your inbox every month.
Sign up for our monthly newsletter here.
For more frequent updates and industry news, join us on LinkedIn.
---
NOTE: The views and opinions expressed herein are solely those of the author, unless attributed to a third-party source, and do not necessarily reflect the views of Ray Energy Corp, its affiliates, or its employees. The information set forth herein has been obtained or derived from sources believed by the author to be reliable. However, the author does not make any representation or warranty, express or implied, as to the information's accuracy or completeness, nor does the author recommend that the attached information serve as the basis of any buying decision and it has been provided to you solely for informational purposes. © 2011-2020 Ray Energy Corp. All rights reserved. Any reproduction, representation, adaptation, translation, and/or transformation, in whole or in part by whatsoever process, of this site or of one or several of its components, is forbidden without the express written authorization from Ray Energy Corp.