Propane Barometer

What Does Propane's Current Value to Crude Tell Us?
Statistics can't always predict the future. But they can often indicate the probability of something happening based on what's happened in the past.
Here is a chart that shows the yearly average price for WTI crude oil (price per bbl.) and Mt. Belvieu propane (price per gallon) for the last six years.
We've also included when the lowest monthly price for propane occurred each year and its value to crude.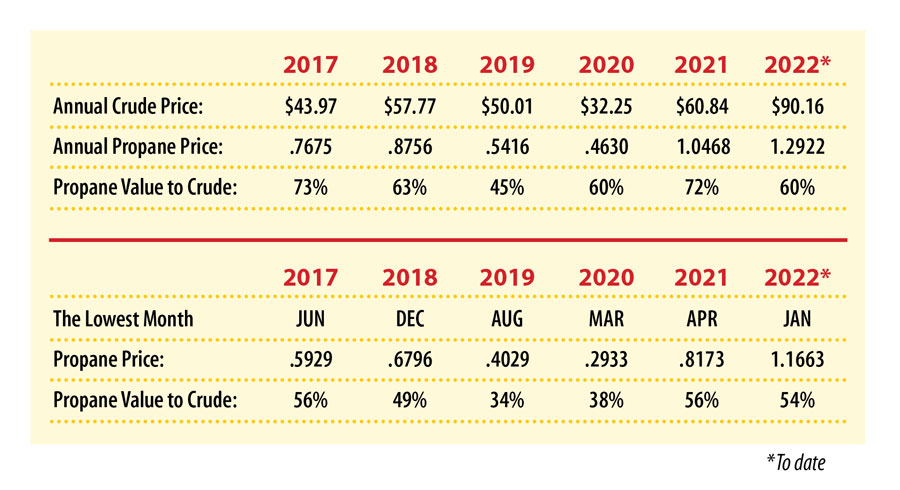 As you can see, the lowest monthly price for propane each year coincided with a lower value to crude than the annual average, often by quite a bit.
Well, current propane prices are as low as they've been since January!
And propane's value to crude (41 percent) – think of it as a demand barometer – is lower than the year-to-date average (54 percent) and may be unsustainably low given current inventory levels.
This is not to say that the price of crude oil and propane can't go lower.
But the value of propane relative to crude oil is on the low side and current propane prices are near the lowest monthly average of the year (to date). If you intend to add in another fixed-price layer or convert some index-priced supply with us into a fixed price, this may be an good time to contact us.
What's Happening with Propane Prices?
Goldman Sachs Global Investment Research recently updated their WTI Crude Price Forecast for October, 2022, thru March, 2023, to $125.00/bbl. which is the propane equivalent (in my opinion) of about $1.48/gallon FOB Mt. Belvieu, TX.
Propane Price Chart

Weekly Inventory Numbers
Propane's declining value relative to crude may be having the desired impact on export demand as U.S. propane inventories only registered a modest build of 1.58 mmbbls. for the week ending June 10, 2022. This brings national inventory levels to 51.82 mmbbls., about 6 percent lower than last year and 13 percent lower than the 5-year average.
PADD 2 (Midwest/Conway) inventories had a fairly strong build of 1.14 mmbbls. They currently stand at 14.27 mmbbls., only 2 percent behind ​last year.
PADD 3 (Gulf Coast/Belvieu) inventories were largely unchanged. They now stand at 29.91 mmbbls., nearly 5 percent behind last year.
The Skinny
Propane's ever-changing value to crude is like a barometer that indicates whether global propane demand is being encouraged or discouraged. When the barometer moves too far in one direction, fundamentals kick in and the barometer starts to move the other way.
Propane prices are about as low as they've been this year and propane's value to crude is fairly low right now, so this may be a good time to convert some index-priced supply over to a fixed price for next winter – especially if you offer a fixed-price option to your customers.
---
Get Stephen's insights on propane delivered to your inbox every month.
Sign up for our monthly newsletter here.
For more frequent updates and industry news, join us on LinkedIn.
---
NOTE: The views and opinions expressed herein are solely those of the author, unless attributed to a third-party source, and do not necessarily reflect the views of Ray Energy Corp, its affiliates, or its employees. The information set forth herein has been obtained or derived from sources believed by the author to be reliable. However, the author does not make any representation or warranty, express or implied, as to the information's accuracy or completeness, nor does the author recommend that the attached information serve as the basis of any buying decision and it has been provided to you solely for informational purposes. © 2011-2022 Ray Energy Corp. All rights reserved. Any reproduction, representation, adaptation, translation, and/or transformation, in whole or in part by whatsoever process, of this site or of one or several of its components, is forbidden without the express written authorization from Ray Energy Corp.