Propane Here! Read All About It!!
February Lesson
In one tragic month, Mother Nature injected more doubt and concern into the arena of public opinion regarding renewable energy and the "electrify everything" movement than hundreds of articles about the flaws and inadequacies of electric generation combined.
Propane to the Rescue?
Propane, when blended with air, has similar burning characteristics as natural gas. Most people don't know that many utilities once used much greater amounts of propane than they do today. It can supplement and enrich natural gas supply, boost line pressure, and help utilities meet peak or "design day" demand during extreme weather conditions.
Utilities could also promote more "interruptible service" rates to incentivize large companies to install propane/air back-up systems. This would allow utilities to curtail commercial consumption and free up more energy for residential demand when it's needed the most.
As our country moves forward with greater dependency on renewable energy and natural gas as the primary sources of electric generation, the need for propane to play a larger supporting role should return.
Saving Lives, Protecting Homes
Nothing good can happen to people or their homes when the electricity goes out for several days, especially during frigid weather.
What can help? Propane-powered generators can be a life-saving back up to electricity during power outages.
Ray Energy 2021/2022 Propane Supply
It's nearly spring. Yellow and red flowers will soon be everywhere. Those colors remind us that it's Ray Energy contract time and the start of another great season together.
We're growing by leaps and bounds, many thanks to you! Our service area now covers nearly half of the United States including every state east of the Mississippi River.
We'll have our propane supply program ready for you very soon. In the meantime, in the spirit of St. Patrick's Day, let's all raise a virtual pint of Guinness for this toast:
"Cheers everyone. Here's to old friends and new friends and some that are in-between, and to a fantastic 2021/2022 propane season together!"
What's New in Hampton, NY?
We have exciting expansion plans at our Hampton, NY, rail transfer facility to make it even bigger and better to meet your growing needs. We're adding two 60,000-gallon storage tanks, two dual rail towers, a third transport loading rack, and expanding our local track storage. These additions will give us 3,000,000 gallons of fixed storage and railcar storage combined, with the capacity to load 45 to 60 transports per day.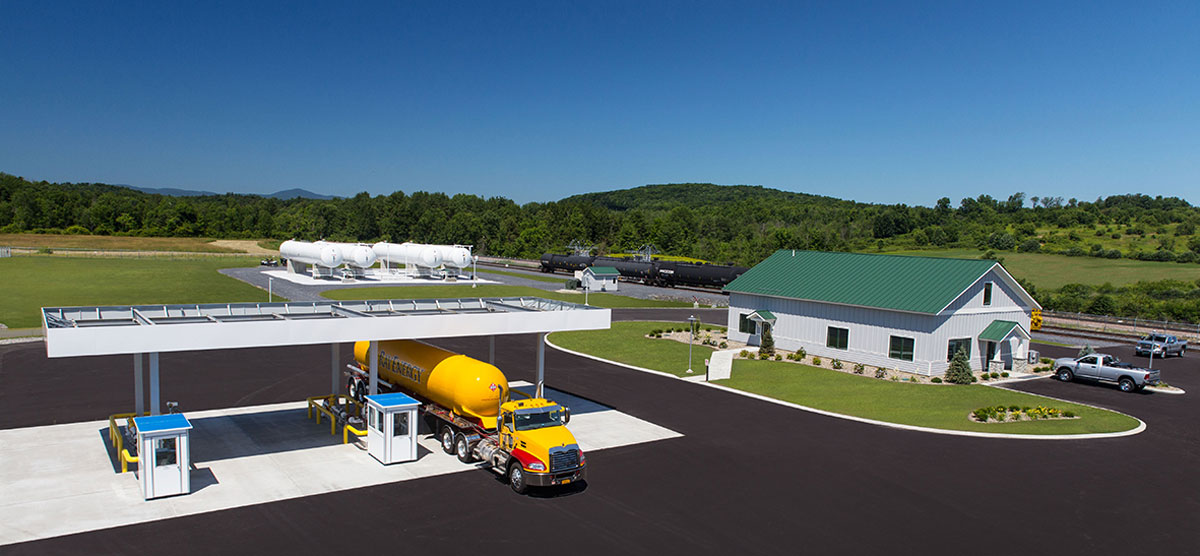 Why Ray Energy?
It all comes down to trust.
We're a multi-generational, family owned and operated company that truly cares about you and the success of your business. We have the knowledge and experience to take exceptional care of your propane requirements and you know that we'll always go the extra mile for you.
What's Happening with Propane Prices?
Mt. Belvieu, TX, propane prices have moved up about $.70 per gallon since last March with modest to substantial monthly increases every month except last July (down $.005 per gallon) and last September (down $.0122 per gallon). I'd be surprised to see the upward trend continue.
Propane Price Chart

Weekly Inventory Numbers
U.S. propane inventories showed an insignificant draw of .170 mmbbls. for the week ending March 12, 2021, perfectly matching industry expectations. That brings national inventory levels to 41.029 mmbbls., about 33 percent behind last year and 15 percent behind the 5-year average.
PADD 2 (Midwest/Conway) inventories had a minor draw of​ .182 mmbbls. They currently stand at 9.027 mmbbls., roughly 14 percent behind ​last year.
PADD 3 (Gulf Coast/Belvieu) inventories recorded a small build of​ .456 mmbbls. They currently stand at 25.920 mmbbls., nearly 41 percent behind last year.
The Skinny
We're expanding in many ways – adding new capacity at Northeast rail terminals and reaching into new markets – to meet your growing needs. And we're very excited to have the opportunity to work with you on your upcoming 2021/2022 propane supply requirements. Thank you.
Slainte!
---
Get Stephen's insights on propane delivered to your inbox every month.
Sign up for our monthly newsletter here.
For more frequent updates and industry news, join us on LinkedIn.
---
NOTE: The views and opinions expressed herein are solely those of the author, unless attributed to a third-party source, and do not necessarily reflect the views of Ray Energy Corp, its affiliates, or its employees. The information set forth herein has been obtained or derived from sources believed by the author to be reliable. However, the author does not make any representation or warranty, express or implied, as to the information's accuracy or completeness, nor does the author recommend that the attached information serve as the basis of any buying decision and it has been provided to you solely for informational purposes. © 2011-2021 Ray Energy Corp. All rights reserved. Any reproduction, representation, adaptation, translation, and/or transformation, in whole or in part by whatsoever process, of this site or of one or several of its components, is forbidden without the express written authorization from Ray Energy Corp.