Propane's Amazing New Path Towards Carbon Neutrality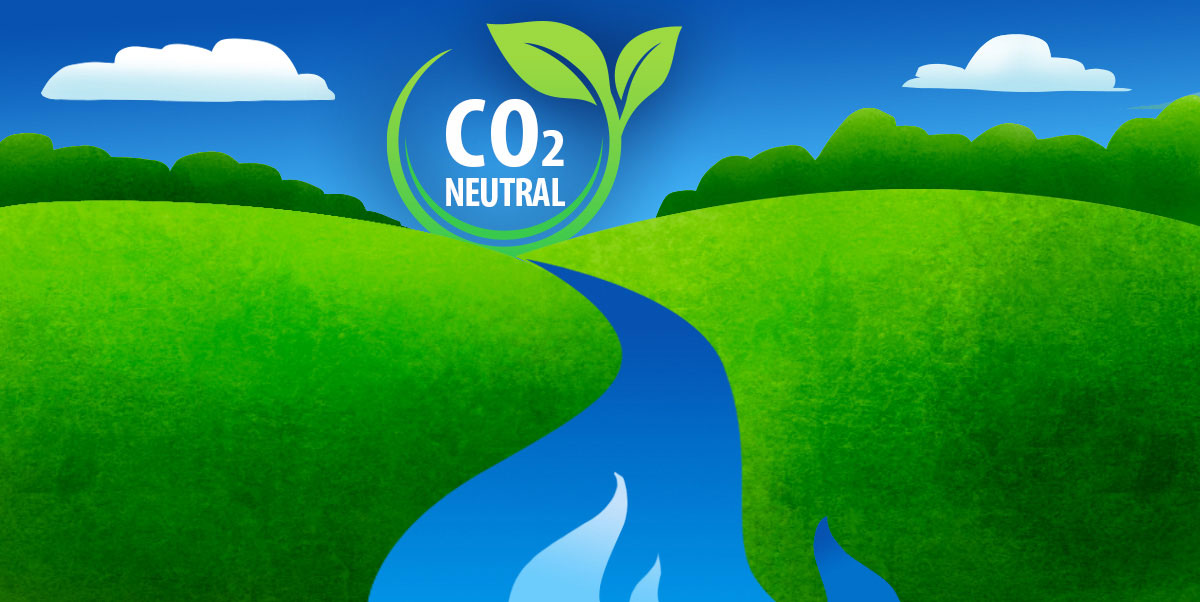 Renewable propane, rDME, and converting plastic waste into propane are all promising new technologies that can green up our planet while building upon the many benefits of conventional propane to meet sustainability goals.
We'll talk about all three …
From Plastic Waste to Propane.
You can't always put the genie back in the bottle.
But in seemingly magical new technology from MIT's chemical engineers, you can convert tons of mixed-plastic waste, including plastic bottles, back into propane.
So you could fuel a school bus, heat your home, or keep the lights on when the power goes out by turning the plastic waste that is found in landfills and oceans around the world into propane. All while helping to clean up the environment, which should be magical enough.
What's not to like about that?
How Does it Work?
Catalysts have been around for 70 years to convert propane into polypropylene, one of the two major building blocks of plastic, along with polyethylene, which is the most widely used plastic in the world. Now the process can be reversed.
Let's start with a diagram and add some context: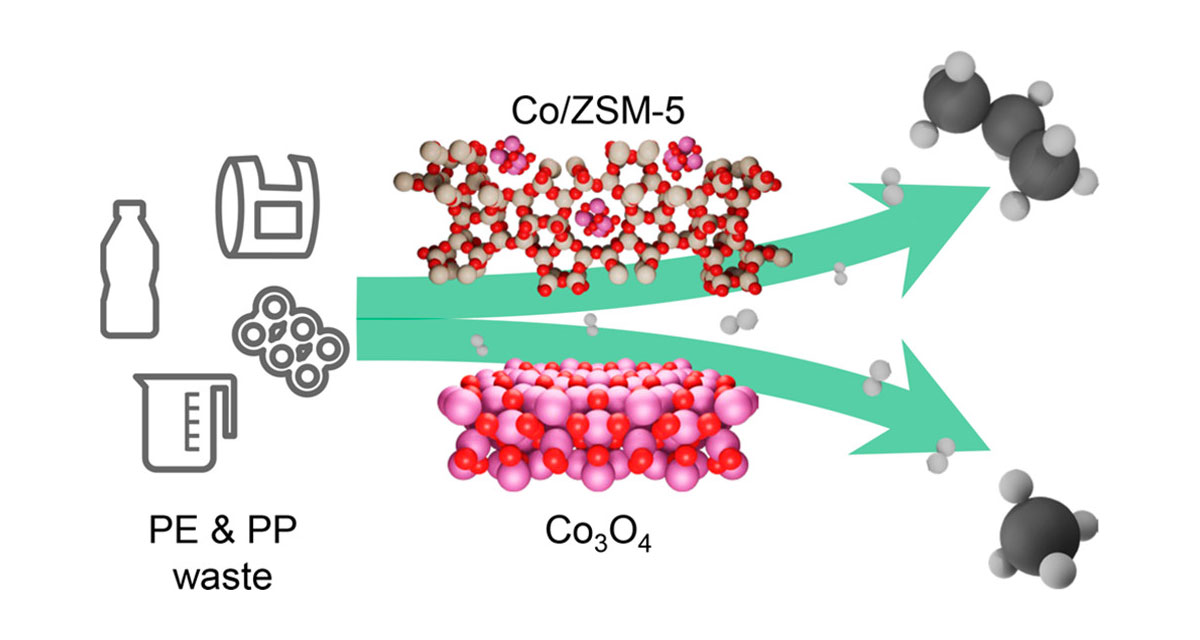 The conversion starts with a porous crystal catalyst called zeolite that's been permeated with ultrafine particles of cobalt (Co3O4). The catalyst is then imbedded into the plastic and subjected to hydrogen pressure at a temperature of 481 degrees. This enables a chemical reaction to take place that "cuts away" the propane (C3H8) molecule.
The game-changer was that while other catalysts could break apart the carbon bonds in plastics in unpredictable places, the cobalt-zeolite catalyst could split the carbon bonds in specific places, consistently separating out the propane molecule.
This made the process much more efficient, converting up to 84 percent of the plastic into propane.
What's Next?
It will take time, capital, and vision to polish up this new technology. But the process is intriguing and (you must admit) the public appeal should be tremendous.
rDME Primer.
Renewable Dimethyl Ether is a synthetic fuel made from waste feedstocks and can reduce greenhouse gas emissions by up to 85 percent versus diesel or heating oil.
rDME's physical properties are similar to propane but because its chemical properties are different (the hydrogen to carbon ratio is 6:1 versus 8:3), it is ultra-low carbon to carbon-negative.
In fact, blends of renewable propane and rDME can actually lower propane's carbon intensity score to negative levels, which is pretty amazing.
Studies have shown that up to 20 percent rDME can be blended with renewable propane and used interchangeably as a drop-in fuel. This carbon-neutral cocktail (Leslie Anderson's wonderful phrase) is substantially lower than most "full-life-cycle" carbon intensity scores for electricity while still retaining all of the benefits of conventional propane.
The future for rDME is promising. For now, though, Oberon Fuels in southern California has the only large-scale commercial production plant of rDME in the country, maybe the world.
Renewable Propane.
Renewable propane has a much lower carbon intensity score than electricity, gasoline, diesel, and natural gas.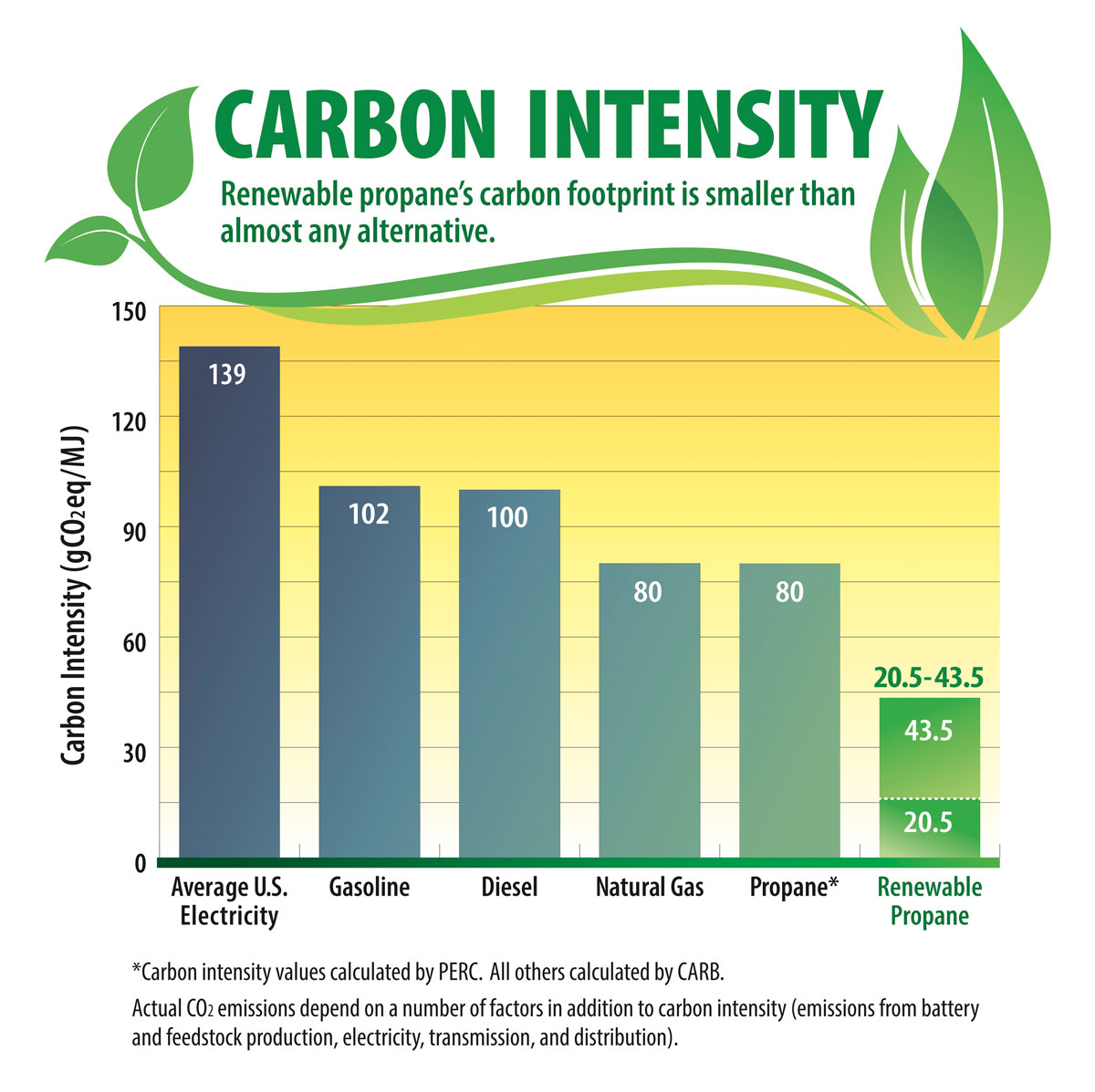 But there are challenges to overcome.
While the quantity of renewable propane has more than doubled in the past year, from nearly 8 mm gallons to nearly 20 mm gallons, it's still very limited. And it's not just the quantity that's very limited, it's the availability.
The fact is, most of the U.S. is competing against California, and every other state that adopts some version of the Low Carbon Fuel Standard, for the same renewable gallons.
We want it on the East Coast; California has to have it.
A Pragmatic Approach: The Practical Way to Reduce CO2 Intensity
This suggests that the adoption of a "sensible" version of the Low Carbon Fuel Standard by East Coast states would almost certainly incentivize the development of a large, regional bio-refinery.
But "sensible" is a subjective word.
To me, a sensible version of any low carbon fuel standard would include:
Acknowledgement of the critical importance of energy independence.
A realistic timeline (2050) for carbon intensity goals.
Less emphasis on 100 percent electrification and more emphasis on "clean energy optionality" with greater incentives for low carbon energy solutions like propane and autogas.
So the propane industry must have a seat at the table with state legislators to advocate for both conventional and renewable propane, and to push for state and federal subsidies and incentives that are comparable to those that electricity receives.
Increasing Public Awareness.
As many of you know, Ray Energy brought the first renewable propane railcars into the Northeast earlier this year. We strive to be at the forefront of positive changes within our industry and we won't stop working to deliver more renewable propane to customers for both on-road (autogas) and off-road use.

The best way to increase public awareness of the benefits of renewable propane is to make it more widely available by making it less expensive.
And the best way to make it less expensive is by starting with a 2 percent "premium blend" (RP2?) similar to the B2 designation for biodiesel.
The cost difference may only be pennies higher than conventional propane but it will allow more people east of the Mississippi to hear the exciting story of renewable propane.
What's Happening with Propane Prices?
The current price of Belvieu propane has been hovering just above the October average, which was the lowest monthly average in 1.5 years.
One factor keeping propane's value to crude on the low side is that tightness in the shipping industry is limiting U.S. exports (you can't deliver what can't be loaded) which may help propane inventory levels this winter.
Next year could be a different story. Nearly 50 new ships, larger and faster, are expected to join the current global fleet size of roughly 330 VLGCs (Very Large Gas Carriers).
Propane Price Chart

Weekly Inventory Numbers
U.S. propane inventories showed a minimal build of .073 mmbbls. for the week ending November 11, 2022, contrary to industry expectations for a small draw.
This brings national inventory levels to 87.813 mmbbls., about 18 percent ahead of last year and 7 percent above the 5-year average.
PADD 2 (Midwest/Conway) inventories had a slight build of .283 mmbbls. They currently stand at 25.463 mmbbls., nearly 2 percent higher than ​last year.
PADD 3 (Gulf Coast/Belvieu) inventories had a modest draw of .660 mmbbls. They now stand at 48.113 mmbbls., roughly 35 percent above last year.
The Skinny
Let's be honest.
Turning new technologies for carbon-neutral energy solutions that build upon the many benefits of conventional propane into large-scale regional realities will take time.
But changes are happening at warp speed, and we're on an amazing new path towards carbon neutrality with renewable propane and rDME.
To the quote from Field of Dreams: "If you build it, they will come." I would add: "And if you use it, they will make more!"
From our Ray Energy family to yours, have a wonderful Thanksgiving!
---
Get Stephen's insights on propane delivered to your inbox every month.
Sign up for our monthly newsletter here.
For more frequent updates and industry news, join us on LinkedIn.
---
NOTE: The views and opinions expressed herein are solely those of the author, unless attributed to a third-party source, and do not necessarily reflect the views of Ray Energy Corp, its affiliates, or its employees. The information set forth herein has been obtained or derived from sources believed by the author to be reliable. However, the author does not make any representation or warranty, express or implied, as to the information's accuracy or completeness, nor does the author recommend that the attached information serve as the basis of any buying decision and it has been provided to you solely for informational purposes. © 2011-2022 Ray Energy Corp. All rights reserved. Any reproduction, representation, adaptation, translation, and/or transformation, in whole or in part by whatsoever process, of this site or of one or several of its components, is forbidden without the express written authorization from Ray Energy Corp.