rPropane: A Slice of the RD Pie
Reminder: Ray Energy and Hocon Gas will deliver the first load of renewable propane into Connecticut on Friday of this week.
The event's host, the Pride Travel Center in Hartford, CT, features multiple clean-energy alternative fuels, including autogas.
Small Slice of the Pie, But Growing.
Renewable propane (rPropane) is a byproduct (about 7 percent) of the Renewable Diesel (RD) production process. The EIA only began collecting data on renewable diesel production capacity 2 years ago, so the "new" in renewable may be an understatement.
Why Do Renewable Fuels Cost More?
A renewable diesel plant uses similar refining technology as a petroleum refinery but the biomass feedstocks are primarily hydrogenated esters and fatty acids (HEFA) which is fancy language for fats, oils, and grease. So, these low-carbon feedstocks are essentially recycled waste. Sustainable feedstocks such as seed oil from camelina plants can also be used.
One of the reasons why renewable fuels cost more is that it takes about 8 pounds of feedstock to make 1 gallon of renewable diesel (and small amounts of renewable propane).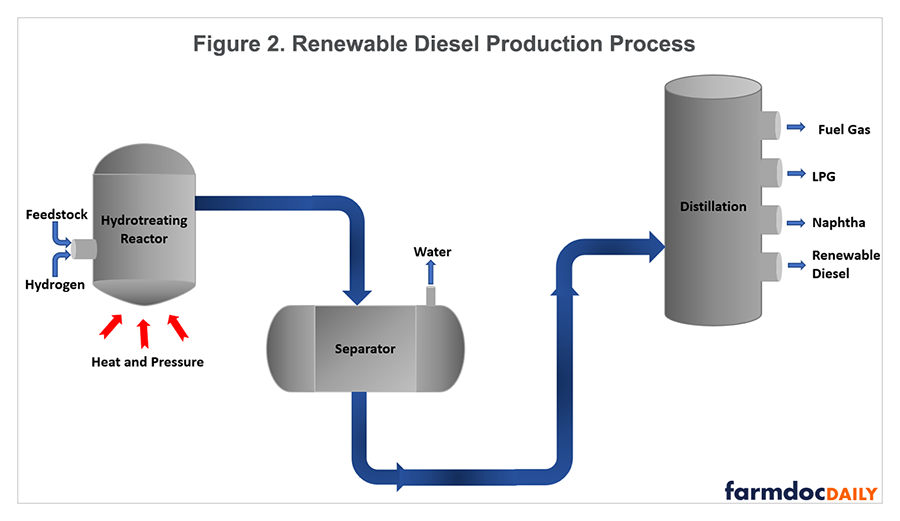 Refiners Have Choices.
Not many people know this but most of the renewable propane that's made is not sold into the retail or commercial markets. Why?
Refiners have choices. Every renewable diesel facility needs hydrogen to turn the feedstocks into renewable fuels during the hydrotreating step (top left on the diagram above). Refiners can buy hydrogen or they can make hydrogen from natural gas … but those are fossil options. They can also use renewable propane to make renewable hydrogen which is then circled back to the hydrotreating reactor.
Because the hydrogen is now renewable, it lowers the Carbon Intensity (CI) score of the products they make, which adds value to them. So the propane never makes it to the market because it is consumed internally.
Growth of Renewable Diesel Can Bring Scalability to Renewable Propane.
The renewable diesel production boom took off in 2021. By the end of 2022, there were 16 production plants in 10 states. Expectations for 2023 to 2025 are that there could be 11 more plants: 2 completely new ("greenfield") and 9 petroleum refinery conversions ("brownfield"), as well as 5 plant expansions.
They're not cheap. Large "brownfield" conversions like Phillips 66 in Rodeo, CA, (2024) can cost over a billion dollars. And the cost just to separate higher quantities of butane out of propane in a "greenfield" plant can be between $20 to $30 million dollars. Which is why large converted petroleum refineries are more likely to have the infrastructure in place to separate, store, and market renewable propane. New plants are more likely to use their propane internally.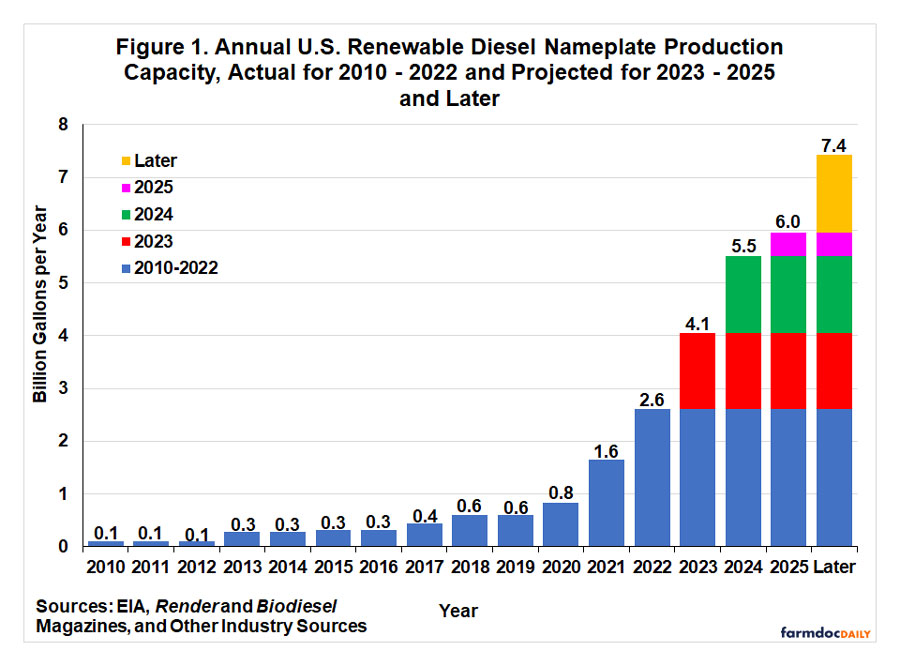 I've talked a lot about renewable diesel in this blog, because their growth is our growth. For example, earlier this year several researchers with the Dept. of Agriculture and Consumer Economics estimated that renewable diesel production capacity could jump from 2.6 billion gallons last year to 6.0 billion gallons in 2025.
By my math, this would equal about 420 million gallons of renewable propane production that could be sold into the retail and commercial markets. That would be equal to roughly 4 percent of all of the conventional propane that's currently sold to retail and commercial customers within the U.S.
More likely that number will be closer to 215 million gallons due to the renewable hydrogen and "greenfield" plant information we previously discussed. That would still represent 70 percent growth in one year from some industry projections for next year.
It all comes down to value propositions.
Propane Autogas is 3% of Propane Demand.
Propane autogas plays an important role in lowering GGE versus gasoline or diesel. Renewable propane lowers the CI score even more. But autogas only represents about 3 percent of total propane demand and renewable propane is limited to transportation use (unless someone pays the RIN value difference), so it's not reaching a wider audience.
That's unfortunate. More people should have access to renewable propane.
The Nuts and Bolts of It All.
Every state should want to incentivize cleaner, lower carbon fuels versus higher carbon fuels to reduce greenhouse gas emissions. But what if some states don't? That's OK. Focus on the states that are interested. Which is why we don't need a national version of California's Low Carbon Fuel Standard (LCFS).
What's Happening With Propane.
WTI crude oil prices are at their highest level in 10 months (around $89.00/bbl.) partly due to supply cuts from Russia and Saudi Arabia as well as reports from the IEA and OPEC that the 4th quarter supply deficit may be the largest in a decade.
Belvieu prices have been swept up in the rising tide, moving up about $.10/gallon since the start of September. Bigger picture: propane prices have moved up over $.20/gallon since June but are still about $.22/gallon lower than last year at this time.
Propane Price Chart

Weekly Inventory Numbers
U.S. propane inventories are now knocking on the door of 100 mmbbls. courtesy of a substantial build of 3.1 mmbbls. for the week ending September 8, 2023, which was on the higher end of industry expectations. This brings national inventory levels to 99.1 mmbbls., about 28 percent above last year and 21 percent above the 5-year average.
PADD 2 (Midwest/Conway) inventories had a decent build of 1.0 mmbbls. They currently stand at 26.6 mmbbls., about 16 percent higher than ​last year.
PADD 3 (Gulf Coast/Belvieu) inventories had a larger build of 2.2 mmbbls. They currently stand at 58.4 mmbbls., roughly 36 percent ahead of last year.
The Skinny
Our propane industry needs partnerships with like-minded industries and trade associations like Clean Fuels Alliance to work with the EPA regarding modifications to the RFS RIN credits program (2005) structure.
The EPA believes that "drop-in" renewable fuels are particularly promising for the future. If renewable propane could qualify for "heating" credits, it would dramatically increase the distribution and consumption, especially in those states that are considering or planning to adopt some version of a LCFS or Clean Heat Standard.
Additional state incentives could put the cost of renewable propane much closer to price parity with conventional propane which would help introduce the lower carbon benefits of renewable propane to a much wider audience.
What's the downside to that?
---
Get Stephen's insights on propane delivered to your inbox every month.
Sign up for our monthly newsletter here.
For more frequent updates and industry news, join us on LinkedIn.
---
NOTE: The views and opinions expressed herein are solely those of the author, unless attributed to a third-party source, and do not necessarily reflect the views of Ray Energy Corp, its affiliates, or its employees. The information set forth herein has been obtained or derived from sources believed by the author to be reliable. However, the author does not make any representation or warranty, express or implied, as to the information's accuracy or completeness, nor does the author recommend that the attached information serve as the basis of any buying decision and it has been provided to you solely for informational purposes. © 2011-2023 Ray Energy Corp. All rights reserved. Any reproduction, representation, adaptation, translation, and/or transformation, in whole or in part by whatsoever process, of this site or of one or several of its components, is forbidden without the express written authorization from Ray Energy Corp.