Summer Solstice, Propane Price Swoon

The North Pole was tilted closest to the sun yesterday and propane prices have been tilted close to November, 2020, price levels ($.5464 monthly average) which was the COVID year of demand-destruction.
So where do prices go from here?
There are hundreds of energy-related stats, business and government policy decisions, and world events that change daily and shape propane prices: it would be silly to point to one thing for price direction. But we can talk about some things with certainty and other things that may move the price needle higher or lower.
Low Belvieu Prices.
Let's start with the fact that current Belvieu propane prices are only $.25 to $.33 per gallon above the last 20 years' low-price level marks:
$.2290 week ending 3/27/20
$.3080 week ending 1/22/16
$.2870 week ending 1/25/02
Record Exports Can't Overcome Record Production and Weak Domestic Demand.
The U.S. exports much more propane than it consumes domestically. So it would seem that fluctuations in export demand are everything when it comes to price direction. But even record export demand can't drive the bus when strong domestic supply is coupled with weak domestic demand.
Export demand and domestic supply are both up about 6 to 8 percent versus last year at this time. Let's call that a wash. So the difference maker, which has contributed to larger than expected inventory builds on average, has been disappointing domestic consumption (product supplied is the actual EIA term for their demand calculations). Domestic consumption has been running about 15 percent lower than last year for the past four weeks.
A big part of lower domestic consumption is due to weaker petrochemical demand for propane which has dropped precipitously (versus ethane) since March. This is partly because ethane has been the preferred feedstock during the most recent dip in plastics demand and partly due to underlying economic conditions. U.S. industrial production has been largely flat versus last year and manufacturing activity has moved lower for the past seven months.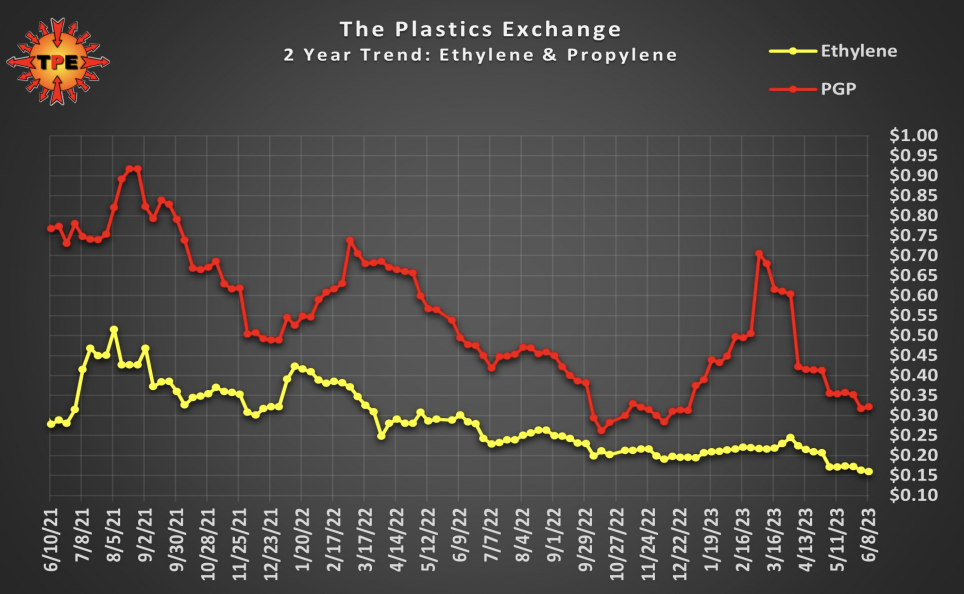 We're also coming into the summer months when folks typically spend more on travel, hotels, and restaurants than manufactured products.
The question is, do these trends continue past this summer?
What Does All Of This Mean?
I know this will sound overly simplistic, but it seems likely that future propane price movement will be determined by some combination of one of two scenarios: either the world economies (especially Asia) will become more robust or U.S. shale producers will feel enough pain to hit the "pause button" and make less of what they can't sell at acceptable margins.
Which do you think will happen first?
One lesson we learned from the energy pricing depths of March, 2020: when something becomes too cheap the folks that make it will make less, sell less, and store more.
What's Happening With Propane Prices?
Current propane prices are near $.56 per gallon, slightly below the month-to-date average.
Last week's Baker Hughes report showed that U.S. oil and gas rig counts are still declining (687 versus 740 last year) including declines in the Permian Basin (TX/NM) which has the most active rigs in the country. Shouldn't this decline manifest itself at some point in terms of tighter supply?
Propane Price Chart

Weekly Inventory Numbers
U.S. propane inventories showed a modest build of 1.5 mmbbls. for the week ending June 16, 2023, which was below industry expectations. This brings national inventory levels to 76.9 mmbbls., about 43 percent above last year and 27 percent above the 5-year average.
PADD 2 (Midwest/Conway) inventories had a negligible build of .1 mmbbls. They currently stand at 19.1 mmbbls., nearly 21 percent higher than last year.
PADD 3 (Gulf Coast/Belvieu) inventories had a build of 1.6 mmbbls. They currently stand at 48.2 mmbbls., roughly 59 percent ahead of last year.
The Skinny
Current Belvieu propane prices are only about $.25 to $.33 per gallon above the last 20 years' low-price level marks:
1. $.2290 (3/27/20)
2. $.3080 (1/22/16)
3. $.2870 (1/25/02)
With propane prices already more than 50 percent lower than they were a year ago, the downside seems fairly limited. This continues to be a good opportunity to cover fixed-price sales to your customers by layering in fixed-price purchases from Ray Energy.
Have a great summer everyone!
---
Get Stephen's insights on propane delivered to your inbox every month.
Sign up for our monthly newsletter here.
For more frequent updates and industry news, join us on LinkedIn.
---
NOTE: The views and opinions expressed herein are solely those of the author, unless attributed to a third-party source, and do not necessarily reflect the views of Ray Energy Corp, its affiliates, or its employees. The information set forth herein has been obtained or derived from sources believed by the author to be reliable. However, the author does not make any representation or warranty, express or implied, as to the information's accuracy or completeness, nor does the author recommend that the attached information serve as the basis of any buying decision and it has been provided to you solely for informational purposes. © 2011-2023 Ray Energy Corp. All rights reserved. Any reproduction, representation, adaptation, translation, and/or transformation, in whole or in part by whatsoever process, of this site or of one or several of its components, is forbidden without the express written authorization from Ray Energy Corp.