Transformative Propane Systems
More Efficient than Electricity, Environmentally Friendly.
Imagine if you could design a unit that combined a propane furnace or boiler and hot water heater with a propane-powered generator. The unit would produce both heat and hot water for your home and generate electric power, which is especially nice when the grid goes down.
Wouldn't that be something!
Well, the latest example of propane equipment ingenuity is here now: micro-combined heat & power (mCHP) systems.
More Efficient: 27 percent to 57 percent more efficient than electricity from the power grid.
Protect the Environment: Micro-CHP propane systems are clean-burning and produce substantially fewer harmful emissions than typical grid power plants.
Old Technology. New Solution.
The technology to generate electric power while using the secondary heat from an engine to provide heat and hot water has been around for three decades, used mostly in large industrial applications.
YANMAR's innovation scales the unit down to a size where it can be integrated into smaller commercial buildings and homes.
Propane Education & Research Council (PERC)
We asked Bryan Cordill (Director, Residential and Commercial Business Development, PERC) about the average lifespan of these mCHP units, what type of maintenance is required, and how can our customers learn more about this?
Bryan Cordill: "The units are typically designed with a 15-year or longer life expectancy. Maintenance can be as simple as a filter change on the most advanced Sterling Engine systems, to a more routine oil and filter change on the internal combustion engine (ICE) units. The ICE units are built with oversized oil sumps to keep the service interval as long as possible.
We have a new informational brochure that can be a good piece to start the conversation with customers. Commercial customers will see the biggest savings, but residential customers who have the fear of missing out will be early adopters too."
For more information on product development news and installation case studies, visit Propane.com or follow them on Facebook and LinkedIn.
What's Happening with Propane Prices?
The polar vortex is here, crude prices are at their highest level in eight years, and Belvieu propane prices have ticked up about $.15 per gallon versus the December average. Below-normal weather in January means something, so we're definitely not out of the woods in terms of strong demand which is creating regional needs for spot propane supply and lengthy truck lines at some terminals. The HOS waivers are helpful, but there is still tremendous pressure on transportation companies right now.
In terms of a percentage to crude, propane has been hovering around 58 percent. That may seem a little high given that the EIA's 39.9 Days of Supply (calculated by taking current inventory level divided by the four-week demand average) hasn't changed much at all since mid-December (40.7 Days of Supply).
But total U.S. propane inventories are still on the low end of the five-year average range so a couple of robust weekly draws could crank up the conversation again about low inventory levels. Granted, the deficit for now is in the Gulf Coast … but nothing happens in a vacuum.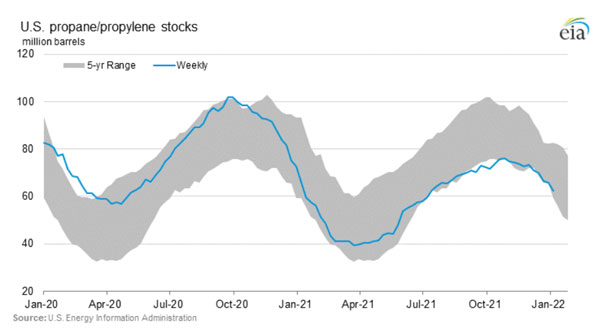 Propane Price Chart

Weekly Inventory Numbers
U.S. propane inventories showed a draw of 3.693 mmbbls. for the week ending January 14, 2022, only slightly above industry expectations. (For comparison, last year at this time the draw was 6.33 mmbbls.) This brings national inventory levels to 58.686 mmbbls., about 2 percent behind last year and 7 percent behind the 5-year average.
PADD 2 (Midwest/Conway) inventories had a seasonal draw of​ 1.439 mmbbls. They currently stand at 19.311 mmbbls., roughly 15 percent ahead of ​last year.
PADD 3 (Gulf Coast/Belvieu) inventories showed a rather pedestrian draw of​ 1.655 mmbbls. They now stand at 27.29 mmbbls., nearly 14 percent behind last year.
The Skinny
Power outages and rolling blackouts are only likely to increase in frequency so microCHP propane units offer the best of all worlds by combining the benefits of electric power from a generator with a furnace and hot water heater (all-in-one unit) to produce electricity, heat, and hot water for a small business or home.
They are also much better for the environment than electricity from the grid. The environmental benefit in today's world can't be overstated so while these micro units are still a relatively new energy solution, they show plenty of potential and are worth learning more about.
For additional information, here is the article in Plumbing Perspectives.
---
Get Stephen's insights on propane delivered to your inbox every month.
Sign up for our monthly newsletter here.
For more frequent updates and industry news, join us on LinkedIn.
---
NOTE: The views and opinions expressed herein are solely those of the author, unless attributed to a third-party source, and do not necessarily reflect the views of Ray Energy Corp, its affiliates, or its employees. The information set forth herein has been obtained or derived from sources believed by the author to be reliable. However, the author does not make any representation or warranty, express or implied, as to the information's accuracy or completeness, nor does the author recommend that the attached information serve as the basis of any buying decision and it has been provided to you solely for informational purposes. © 2011-2022 Ray Energy Corp. All rights reserved. Any reproduction, representation, adaptation, translation, and/or transformation, in whole or in part by whatsoever process, of this site or of one or several of its components, is forbidden without the express written authorization from Ray Energy Corp.