Understanding Our Global Relationships

It's relatively easy to know something about propane, but much harder to understand it.
My motivation in writing these monthly blogs is to share something I've learned from industry veterans much brighter than me and to encourage our readers to understand and think about how our propane supply and demand infrastructure works (when it does), and what influences are likely to move prices up or down.
Part of my understanding process involves talking with propane industry experts. One such expert is Mark Rachal from Cost Management Solutions who shares some interesting insights below.
HEFFRON: Twelve months ago, crude oil and propane prices were much lower ($18/bbl. lower and .25 cpg lower, respectively) and propane's percentage to crude was in the 56% range. We've used the analogy that the relationship is like an "export throttle."
What are your thoughts on the current percentage of propane to crude (still 56%)? With US propane inventories 17% below the 5-year average, is the current relationship sustainable?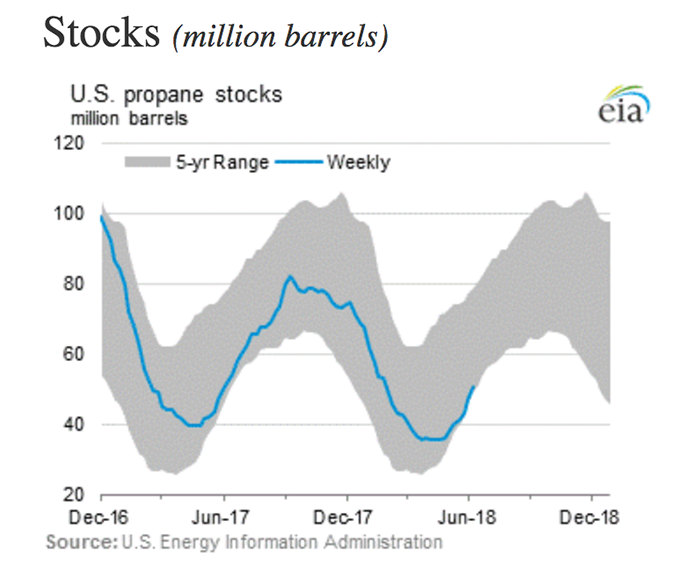 RACHAL: I have very little concern about propane inventory being below the five-year average. That average is skewed by the extraordinary builds to 106 million barrels in 2015 and to nearly 103 million barrels in 2016 when our export capacity was not robust enough to reduce excess supply. That is no longer the case. I tend to compare with last year and look for inventory levels between lows of 35 million barrels and highs of 85 million barrels.
With US supply so much higher than domestic demand, you are correct in emphasizing the importance of exports being the throttle that will balance supply with domestic demand. The more than $10 discount that WTI crude holds to Brent crude should help all US energy products, including propane, be competitive in the global marketplace. However, I believe we have gone from a point globally where NGLs are undersupplied to more balanced. That could be why we have seen propane exports running below the previous year since December. That is a major change compared to the rapid year-over-year growth we had been experiencing.
HEFFRON: Can you bring a historical perspective to this?
RACHAL: Historically, before the shale gas revolution, propane averaged about 70 - 75 percent of a barrel of crude. We have to remember we were a net importer of propane back then. That relationship was primarily established by petrochemical economics. Propane's relative value dropped to less than 25 percent of WTI when propane supply completely overwhelmed domestic demand and there was not yet enough export capacity. With adequate export capacity, the US price can now reflect the global market. Frankly, I think we are still in the process of discovering where the sweet spot for supply demand balancing will be, but the 50 - 60 percent range looks like where we are settling for now.
HEFFRON: Based on current and forecasted US production of crude and natural gas, what do you see happening down the road?
RACHAL: US natural gas production is at record highs; thus, US propane supply is growing. With that growth, we could see some hefty inventory builds later this summer if propane exports do not start exceeding last year, which could drive propane's relative value down to the lower end of the 50 to 60 percent range.
We have to note that most of the 40 percent increase in propane's value from last year is attributable directly to the increase in crude's value. The market is not reflecting a major change in propane fundamentals to this point.
HEFFRON: What are your thoughts concerning demand for propane as a petrochemical feedstock?
RACHAL: From the petrochemical perspective, ethane is so much cheaper than propane that petrochemicals are probably already near the lower end of propane consumption, so I am not sure how much elasticity is in that segment. We are seeing investment in ethane export facilities, but ethane remains in much the same conditions that propane found itself in a couple years ago. The higher crude prices do help propane's valuation relative to naphtha as a feedstock.
HEFFRON: Is the widening WTI/Brent spread a factor?
RACHAL: You are absolutely right that no price movement of any commodity is in a vacuum. If one commodity gets priced out of balance, market forces are going to work toward balance. Exports are the most likely adjustment point for propane, but the question of how much of our propane the world needs will always be the tough question to answer.
The more robust global economy would suggest higher propane export volumes, but we sure haven't seen that over the last five months. That would tend to indicate US exports are struggling against other global supply options.
But right now, with WTI so discounted to Brent and the global economy seemingly in good shape, we would have to say the risk to a break below the 50 to 60 percent propane relationship is minimized. Strong demand globally for heating needs, if it occurs, would drive us above 60 percent of crude. On the other hand, strong US propane production and cheap ethane should work to keep us out of a major spike situation. So, periods of 70 and 80 percent are not out of the question, but I would tend to believe those periods would be of limited duration as the market adjusts.
HEFFRON: Thank you for sharing your time and thoughts with us Mark. Good stuff!
What's Happening with Propane Prices?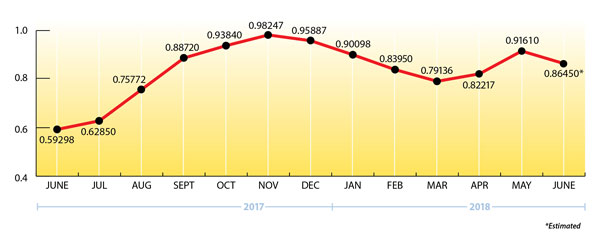 Crude oil prices ($65 bbl.) have weakened by $8 bbl. since May, which represents a "healthy" retracement (fancy term for profit-taking or short selling) of nearly 40% from the run-up since last June.
Similarly, Mt. Belvieu, TX, propane prices have softened about $.10 since May, but seem to be finding support near the current $.85 level.
OPEC is meeting in Vienna this week and I believe that Russia and Saudi Arabia will increase production slightly, independently of a formal OPEC consensus. Sounds bearish, but with all of the production and political issues facing Venezuela, Iran, Iraq and Libya, I'm not sure you can put the genie (bull) back in the bottle yet.
And, since we continue to see higher low prices for propane with each retracement up the chart trend-line (since 2016), I believe softer prices now are most likely a correction to what is still a bull market and not the start of a new price trend.
EIA Weekly Numbers:
US propane inventories for the week ending 6/15/18 slightly exceeded industry expectations with a 3.234 mmbbls. build (54.079 mmbbls. total) and are currently 15% behind the 5-year average.
PADD 2 (Midwest/Conway) inventories built 1.2 mmbbls. They stand at 17.71 mmbbls., even with last year.
PADD 3 (Gulf Coast/Belvieu) inventories built by 1.14 mmbbls. They currently stand at 29.56 mmbbls., only 3% behind last year.
The Skinny:
Even while the Belvieu market was softening, very strong regional demand for wet gallons drove spot prices up last December and January . This summer there may be times when we see the opposite. We should be cautious when comparing the strength, or judging the direction, of the "international" Belvieu market by seasonally weaker "regional" demand.
The good news is that propane prices for next winter are generally lower than what was available in May. So if you missed converting in March (or need to convert more), this may be a good entry point to convert some index-priced gallons to a fixed price with us, especially if you have customers interested in locking in their winter prices now.
The Skinny Tip: Don't go naked with fixed-price sales to customers; there's no skinny-dipping in propane!
---
About Mark Rachel:
Mark is the Director of Research and Publications for Cost Management Solutions. His broad industry experience includes management level positions with Chevron USA, KN Energy, and Warren Petroleum.
You can reach him at his office at 318-734-5141 or via email: mrachal@propanecost.com
---
Get Stephen's insights on propane delivered to your inbox every month.
Sign up for our email newsletter here.
NOTE: The views and opinions expressed herein are solely those of the author, unless attributed to a third-party source, and do not necessarily reflect the views of Ray Energy Corp, its affiliates, or its employees. The information set forth herein has been obtained or derived from sources believed by the author to be reliable. However, the author does not make any representation or warranty, express or implied, as to the information's accuracy or completeness, nor does the author recommend that the attached information serve as the basis of any buying decision and it has been provided to you solely for informational purposes.

© 2011-2017 Ray Energy Corp. All rights reserved. Any reproduction, representation, adaptation, translation, and/or transformation, in whole or in part by whatsoever process, of this site or of one or several of its components, is forbidden without the express written authorization from Ray Energy Corp.